Herald Rating:
3/5
Address:
115a Ponsonby Rd, Ponsonby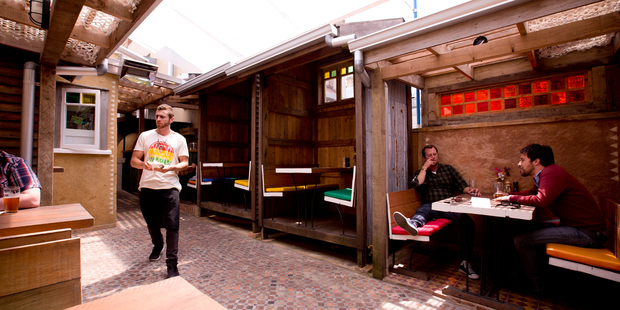 The menu had a slightly Spanish feel, with mentions of chorizo, guacamole, chilli and salsa. There was also the interesting-sounding organic mochi waffle made from organic sweet brown rice - apparently a symbol of purity and strength.
The look was super hip as we walked through the interior space checking out the T-shirts, caps, posters and other interesting bits and bobs for sale on the way through to the sunny courtyard (definitely the place to sit if you can score a table).
The food was generous and tasty, especially when we added some of our favourite extras like guacamole and hot sauce. My breakfast taco ($18) came with three corn pockets, packed with pulled pork shoulder, scrambled eggs, tomato salsa and wood-fired sauce. My dining companion was very happy eating his free-range poached eggs with chorizo and wood-fired portobello mushroom ($18).
The coffee was fine, but lattes are getting pricey these days ($4.50).
The service was wonderfully chipper on this windy Saturday morning.
Overall, the outdoor space is great, but we wished we could hear the music from our wooden hut. While our picks were pricey, the service with a smile will draw us back when the sun's out.