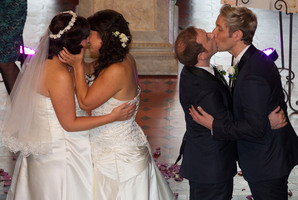 More than 100 same-sex couples have married since it was made legal in August, new figures show.
Provisional Statistics New Zealand figures show 117 gay couples have tied the knot since on August 19.
Statistics Minister Maurice Williamson said 61 female couples and 56 males couples wed.
Forty-seven of the 117 marriages were couples who transferred their civil union to marriage, he said.
"The information also shows one third of same-sex marriages were to overseas residents, compared with 10 per cent of opposite-sex marriages.''
There were 33 civil unions registered over the same period, down from 53 in the same quarter a year ago.
For the September quarter there were 2798 marriages registered in New Zealand.
- APNZ