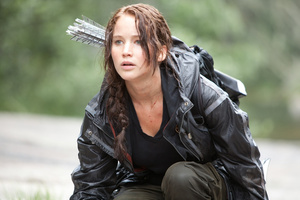 The Hunger Games' costume designer Trish Summerville has teamed up with online designer store Net-A-Porter for a collection inspired by the popular movie franchise.
With the sequel The Hunger Games: Catching Fire due for release later this month, Summerville has revealed the movie's star, Jennifer Lawrence, was a huge fan of the designs.
"During fittings, Jennifer would get so excited and say she wants everything," she told British magazine Grazia.
"That's such a nice compliment coming from someone who's doing so much red carpet and has her own carefree style. She has this chameleon-like ability to transform."
The collection channels heroine Katniss' tough aesthetic with the inclusion of plenty of leather and honeycomb print details.
Summerville's favourite looks are also featured, including layered chains, tight trousers, laser-cut patent leather dresses and monochrome hues. She believes the pieces can be adapted to suit any occasion.
"I kept details of outfits described in the book and translated them into shapes that can be worn in daily life," the designer said.
"Yes, there are a lot of black pieces. But we all love black!"
* The Hunger Games: Catching Fire will be released in NZ on November 21.
- COVER MEDIA