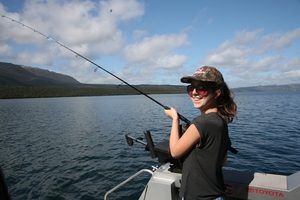 The Manukau Harbour is experiencing a late run of gurnard with good snapper also being taken. Veteran Manukau fisherman John Moran says "the so-called red carrots" have gone off pilchards in favour of mullet and salted kahawai and two fishos he knows caught 14 in two hours last Saturday. The normal pattern is for the gurnard to move into harbours like the Manukau and Kaipara over winter, heading back out offshore in spring when snapper arrive. While juvenile snapper are making their presence felt, a number of 1.5kg to 4kg snapper are among them.
"Without exception, all the big snapper are being caught in deeper water - 10 to 20 metres plus, with most hooked on super long traces," he says. The smaller tides are preferred, because the lesser currents allow baits to reach the bottom.
Out off the west coast, there are plenty of school snapper when the weather allows boats to get out, and the big vanguard male snapper are due to show up any day, prior to spawning.
Whitebait fishing in the lower Waikato River has been frustrating with good catches alternating with nothing.
On the east side, good schools of snapper are at three metres east of The Noises and in 40 metres east of Tiritiri Matangi Island. The triangle between Tiri and Kawau Island and out in the Hauraki Gulf towards the cable zone is also holding large numbers of fish. Look for birds and dolphins, or anchor and drop berley on the seabed. When drifting, lures and jigs can be deployed but, if anchored, baits are a better option.
More fish will be hooked if small baits are used rather than whole pillies drifted down on a strayline rig. Large baits will attract fish but are easily stripped by smaller snapper.
The Ohau Channel has fished better this month than in the past three years, with strong runs of smelt attracting trout. A regular local angler calls it "a bumper season", having missed only four nights fishing the channel since October 1. He has caught 87 trout, 75 per cent in nice condition.
He has also had success trolling on Lake Rotoiti; and deep trolling and jigging on the other deep lakes, Tarawera and Okataina, have also been producing fish with catch rates averaging just over one trout per angler.
John Moran suggests trying a different approach when fishing long traces in strong currents. It is a good idea to tie on a flasher rig and instead of adding a sinker put on a recurve hook. The trick is to keep baits small, just a bit bigger than thumbnail size.
Bite timesBite times are 11.45am today, and tomorrow at 12.10am and 12.35pm. These are based on the moon phase and position, not tides, so apply to the whole country. More fishing action can be found on Rheem Outdoors with Geoff, 6.30am Saturdays, TV3, and at www.GTTackle.co.nz.