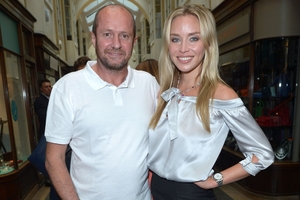 One of Britain's most bitter divorce battles arrived at the High Court with the estranged wife of businessman Scot Young telling the court she would "settle" for 300 million ($582 million) of what she claims is his multibillion-pound fortune.
Rex Howling, QC, acting for Michelle Young, alleged that Scot Young secretly channelled 100,000 to his estranged wife and the couple's two children through a high-profile businessman in order to pretend he was penniless and could not support them.
Michelle Young claims Scot Young has hidden his fortune abroad, and said maintenance payments supposedly given to her by the unnamed friend of her estranged husband in fact came from the sale of "chattels" from one of the couple's former luxury properties.
Justice Philip Moor made clear that Michelle Young was making "very serious allegations" and she should be careful not to do so without good evidence.
The four-week hearing is expected to hear from several high-profile business leaders whom Scot Young, 51, has said paid hundreds of thousands of pounds to provide for him, Michelle Young and their two daughters during their bitter seven-year legal battle.
Sir Philip Green, who owns Topshop, Sir Tom Hunter, a major property investor, Harold Tillman, the boss of fashion brand Jaeger, and restaurateur Richard Caring, owner of The Ivy, Annabel's and Soho House in London, are all alleged to have made payments to support the estranged couple after Scot Young lost all his money in a disastrous Moscow property venture.
He was jailed earlier this year for "flagrant and deliberate" contempt of court after he failed to disclose documentary evidence of the payments.
In his opening note, which was disclosed to the press, Howling said: "Many witnesses are expressing a reluctance to come to court and several, particularly those with a high media profile, appear to be conveniently out of the jurisdiction for the whole of the trial window."
He later told the judge that Tillman, who was served with a witness summons, had "made it clear that he will be outside of the jurisdiction" for the entire four-week hearing and would be unavailable to give evidence.
Howling told the court that Michelle Young claims her estranged husband "previously offered, on an open basis, to settle her claim for 300 million" years after the telecoms and real estate tycoon claimed to have lost all his money.
As she gave evidence, Michelle Young, a former fashion buyer, described the family's opulent existence before Scot Young's alleged financial demise. She told the court they used to live on "vast estates", took "private jets" on "three to four" foreign holidays a year and stayed in "villas and presidential suites".
The court heard that when the couple lived in Woodperry House in Oxfordshire they would go to Raymond Blanc's two-Michelin-starred restaurant Le Manoir aux Quat' Saisons "twice a week". She also claimed her ex-husband told her he spent 1 million a year eating out.
She claimed Scot Young bought her Graffe jewellery worth "a million pounds" which she was later forced to auction off at Sotheby's for between 160,000 and 180,000 to pay for living costs, rent and legal fees. Her collection had included a diamond necklace, a diamond bracelet and two diamond rings.
The case centres on a 400 million schedule of assets that Scott Young is alleged to have lodged with Fox Williams, a leading business law firm, in 2006.
Investigators instructed by Michelle Young forensically recovered the financial information from the hard-drive of a wiped laptop computer he gave their eldest daughter to do her homework in 2008.
Michelle Young told the court: "My husband has never produced a shred of real evidence about where one asset has gone to."
However, she said she had obtained further documents through search orders which suggested he was involved in the flotation of multibillion-pound technology companies. Michelle Young said she had obtained a handwritten note through a search and seize order on Scot Young's London hotel room in 2012 that suggested he was involved in a major deal with Sean Parker, one of the founding investors of Facebook.
Michelle Young told the court that Scot Young was "incredibly" secretive about finance. "He was constantly on the phone to his high-profile friends and advisers talking about multimillion-pound deals he was involved with," she said.
"If I heard it ... he would quickly run off ... or jump out of the Phantom or Ferrari so I couldn't hear."
Later, she claimed that one deal involving Scot Young, Green and Hunter earned them 80 million, which was then transferred into shares in the name of Green's wife, Tina Green.
Scot Young was declared bankrupt in 2010 but Michelle Young told the court: "I believe all the debts are fictitious and it's all part of the restructuring of his assets."
She was cross-examined by Scot Young, who is representing himself, and was asked how he had hidden all his wealth. She said: "You have advisers at the Bank of Scotland (HBOS) and law firms, who move assets from A to B."
She accused him of operating a "golden handcuffs" policy that through "bribery and corruption" had managed to prevent third parties from disclosing their knowledge of his hidden wealth in up to 25 jurisdictions around the globe.
She told Justice Moor: "I need a huge lump sum order in order to go and collect these assets that belong to me and my children."
- Independent