If faint-hearted is not for you, here's ways to toughen up this summer
1. Boot it baby
Every gym worth its mirrors has now got a military-style boot camp programme. Some are just great fun group exercise outdoors (well, fun if it doesn't rain) while others have a full-on marine-style ethos, complete with T-shirts, tears and 20 press-ups if you get it wrong. Find one that fits your schedule, budget . . . and nerve.
2. All a-quiver
Archery is one of the more graceful target sports, increasingly popular since the rise of The Hunger Games. Most clubs practise in sylvan outdoor settings, which makes for a pleasant way to spend a summer afternoon. Good for laser-like focus and zen-like pursuit of perfection.
3. Zipping off now
In case you need to rappel down a building or from rooftop to rooftop, best to get in training now. Check out the amazing tree-top adventure park or forest zip-lines (in Rotorua or on Waiheke). The nervous can start with baby-steps, but with clever autolocking carabiners, you'll soon be trusting enough to launch yourself across the heavens.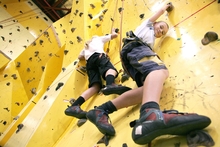 4. Rock hard
If going up - rather than down - is more your thing, head along to an indoor rock-climbing wall with a buddy. Great fun with mates, or if you're more serious, book in for lessons to scale sheer walls. You may never turn into Spiderman, but you'll love what dancing across walls will do to your upper body strength.