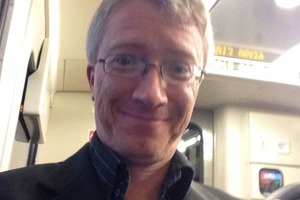 "Rock bottom" is the foundation on which Aucklander Richard Diamond says he built his life up again after being crippled by a rare disease.
In 2004, the then 30-year-old was diagnosed with psoriatic arthritis - a painful form of arthritis usually seen in people 70 years and older.
For the next seven years he tried to control his condition with medication and went on the invalid's benefit, which contributed about $200 a week to the family's groceries and bills. His medication finally got him to a point where he felt able to get back intothe workforce - something that proved difficult.
"I worked ridiculously hard to try and get back into work. But nobody was interested, especially with such a long period of time off. I wasn't getting past sending out my CV - not so much as an interview.
"I retrained, I got truck licences ... but just couldn't find myself a job."
A nurse told him about Elevator, a not-for-profit recruitment agency that helps to provide employment opportunities for Aucklanders with disabilities.
By last November he was offered a job at Tower Insurance in Auckland and last week Mr Diamond, now 39, was promoted to a claims handler customer service officer position at Tower's Rotorua branch. His inspiring story led to him becoming Elevator's first award winner during its 50th anniversary celebrations last week.