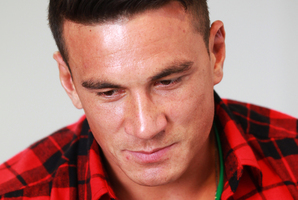 He was born into a working class family in Mt Albert the same year - 1985 - that the Mt Albert league club won both the Fox Memorial Trophy and the Stormont Shield. He was a "small, skinny white kid" who was, thanks to his father John's Samoan heritage, raised mostly within Auckland's Polynesian community.
However, it wasn't his father, a painter and league man, who got Williams into the game but his mother, who raised Williams, his older brother and their twin sisters after her marriage fell apart. A talent scout for Sydney's Bulldogs league club spotted Williams at just 15. SBW became the youngest player ever contracted to the club and, in his first season playing for the premier side, became the youngest player in the club's history, at aged 18, to play in a grand final.
In 2008, to the horror of league fans, he ditched the Dogs for rugby union. In the next five season he played for French club Toulon, Canterbury, the Crusaders, the Chiefs, a Japanese club and the All Blacks, with whom he played in the 2011 Rugby World Cup.
Between rugby and league seasons Williams took up pro-boxing, dating Jaime Ridge and converted to Islam. In 2013 he ditched rugby and returned to league, playing for Sydney's Roosters.
He will play for New Zealand in his second World Cup competition - this time rugby league - beginning on Monday against Samoa, a country of which he is also a citizen.