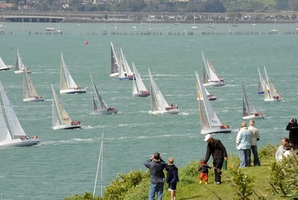 At just 119 nautical miles, next weekend's Coastal Classic Yacht Race is far from being New Zealand's longest coastal race.
But it is the most popular and, often, one of its most challenging.
Beginning with a colourful, and often chaotic, mass start off Devonport Wharf, the PIC Insurance Brokers Coastal Classic requires entrants to negotiate the northeastern coast past Kawau, Whangarei and Tutukaka to Cape Brett, before turning, often directly into the wind, through the outer Bay of Islands to the finish line off the town of Russell.
Rarely does the wind co-operate for the entire race; indeed the event's 31-year history is littered with tales of front runners and serious contenders suddenly falling into a "hole" or just as suddenly encountering strong and exceptionally unfavourable winds.
Despite, or perhaps because of, these difficulties the Coastal Classic has earned almost iconic status among yachties in the top half of the North Island.
Viewed as something of a spring "ice-breaker", it attracts more than 150 boats of all shapes and sizes and as many as 1000 owners and crew.
For those with the appropriate vessels and crew, this is a seriously competitive event; for others, it is more in the nature of a challenge and a bit of (perhaps semi-serious) fun.
Those in the former category this year include current race recordholder TeamVodafoneSailing and fellow Orma 60 trimaran Team Australia, competing in New Zealand waters for the first time.
Another serious contender will be Jim Delegat's new 21.3-metre Giacomo, the largest boat in the fleet and better known to many as Volvo Ocean Race winner Groupama.
But although these and other potential winners such as Equilibrium and Georgia will no doubt gain most of the media attention, race organiser Matthew Flynn is adamant that it is the smaller, lesser-known entries that are the real soul of the event.
"The true heroes of the race are the boats owned by ordinary people, out there having fantastic adventures with family and friends," he says.
This year's fleet includes a good cross-section of such entries. One is young chef Ashley Rogers. Born and bred in Guatemala, she, with her all-female crew, will compete in her recently-bought 8.5m double-diagonal kauri yacht, Strider.
According to Flynn, Rogers is relatively new to sailing, but makes up for it by packing in as much as she can.
"She sails every day except Monday, on a variety of boats, all of which are happy to have someone who is enthusiastic and hard working," he says. "The boat might be older than she is, but it is well proven and seaworthy."
Rogers says she is aiming to sail Strider, alone, across the Tasman in five years' time and the Coastal Classic is an important step in the process.
"I have worked hard to empty and clean her out and to find all the little bits and pieces that need repairing. My friends in the sailing world have helped or given advice," she says.
Another of Flynn's "true heroes" is Kai Skowronnek. A composite boatbuilder involved in the America's Cup, he purchased a Reactor 25, Scintilla, two years ago in Opua, sailed to Auckland and then pulled her out of the water for a refit.
Now just about ready to race, Scintilla will potentially be the smallest entrant on the start line.
"I started sailing dinghies when I was 15," says Skowronnek. "I like racing and I like the challenges that coastal racing has. It is the kind of sailing I could fill my life with." He says his goal is to get a well-prepared and equipped boat to the start and then to sail a great race with friend Kushila Stein.
A 9.5m-long, 30-year-old boat formerly known as Sunday Sun and raced extensively around the Pacific and New Zealand, Taniwha is now owned by a 31-year-old software developer, Lewis Callaghan. Callaghan has assembled a crew of "good friends", aged 19 to 49, which he describes as "over-enthusiastic amateurs in pursuit of yachting glory".
"We're not a big boat but the Taniwha is fast and, while we lack age, we're still hardy."
Callaghan and his crew are also planning to race to Fiji in June next year, before heading off to the Queensland regattas at Airlie Beach and Hamilton Island.
Nineteen-year-old Cory McLennan, the youngest skipper in the fleet, is also planning a solo sail across the Tasman in his 9m racer Atom Ant.
"Add in others like Chris Beaumont, who is entering his new purchase, Flying Boat, for the first time, and there are sure signs of a local sailing fleet paying attention to older, reasonably priced boats and taking on new challenges," says Flynn.
The fleet will compete in eight race divisions, based on size and speed, and will take anything from a little under six hours to more than 24 hours (for those less performance-oriented) to complete.
Spectators keen to watch the massed start at 10am can do so from near the start off Devonport Wharf or from on shore at good vantage spots such as North Head, Bastion Pt or Devonport.
Those able to stick around for a few hours after the fleet has disappeared into the distance will enjoy a bonus: watching the Tall Ships fleet as they arrive in Auckland. (The fleet is expected to arrive between 1pm and 2pm).
Those interested in following the race in some detail can do so on its website, www.coastalclassic.co.nz. The site will feature regular updates, boat tracking, commentary, progress times, photos and video footage.
Coastal Classic
Start: 10am, October 25, off Devonport Wharf
Finish: Off Russell Wharf, Bay of Islands
Distance: 119 nautical miles
Race record:5h 44m 31s
Bonus: Tall Ships fleet arrives into Auckland (expected 1pm to 2pm).