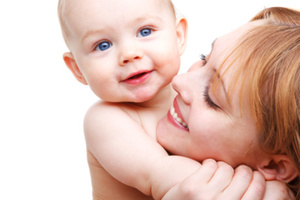 Babies typically come into contact with seven different people every day, according to the first study of its kind.
Interactions with mothers, fathers, siblings and youngsters at playgroups were among the daily contacts recorded for babies aged 12 months and under.
The research, from Public Health England (PHE), was carried out to provide information to help protect babies against infections, especially those who are too young to be vaccinated.
Overall, 115 mothers filled out a 24-hour diary on contact for their babies and the results were split into babies aged 10 weeks and under and those who were aged 10 weeks to 12 months
Of those aged 10 weeks and under, 37 per cent of contacts were with non-household members and were less than 15 minutes duration.
Younger babies were more likely than older babies to have contact with household members, more likely to have contact lasting more than four hours and more contacts at home.
Older infants had less than 50 per cent of all contact at home, with slightly higher contact in settings outside the household such as GP practices, mother-and-baby groups, shopping centres and parks.
Overall, babies came into contact with people aged up to the age of 92, and the number of contacts ranged from one to 19.
Some 92 per cent of the mothers had a long physical contact with the baby.
The babies had more contact with women (60 per cent) than men.
The research was published in the journal Plos One.
Study author Dr Albert Jan van Hoek, an infectious disease expert at PHE, said: "Knowledge of the contact patterns of babies is essential to understand who is most likely to infect them and what the best strategies are to protect them from infections until they are old enough to be vaccinated themselves.
"Although babies have intense interaction with their mother, father and siblings, they still see a lot of people outside of their immediate family.
"The best way parents can protect their children is to ensure they receive their routine childhood vaccination on time.
"PHE will use the newly collected data to improve their transmission models of infectious diseases."
- PA