Maldito Mendez
Address:
Ponsonby Central, 4 Brown St, Ponsonby
Ph:
(09) 378 9107
Web:
www.mendez.co.nz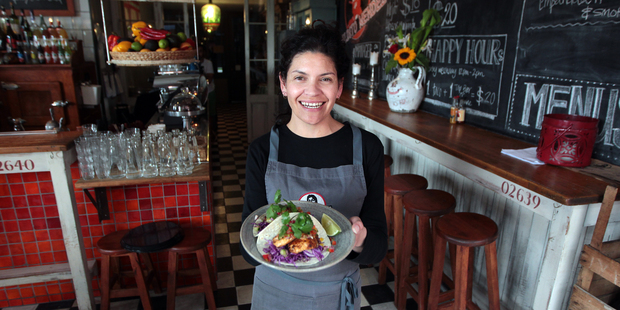 You can tell a lot about a man by the way he talks to a waitress. So I hope the woman at the table next to ours in Maldito Mendez has given the bloke she was with the old heave-ho. If she hasn't, she will have only herself to blame when it all ends in tears.
The woman bringing drinks to his table was not, evidently, worthy of being treated with basic respect; being snarled at and dismissed with a wave as though she were a mosquito was all she could hope for.
She looked after us too, and she was personable, efficient and attentive. Unfortunately, the kitchen whose food she ferried to the table was not up to the same high standard.
To judge by its name, which means something like "damned Mendez" (Mendez being the surname of one of the owners), this is a place that wants to ooze backstreet chic and raffish charm. The logo features the second-to-most-famous photo of Che Guevara (chin jutting, big cigar pointing upwards), but mercifully the restaurant does not deal in that great oxymoron, Cuban cuisine.
The aim is a kind of pan-Latin-American - empanadas, nachos, tacos, ceviche - rather than standard Mexican. Mains include a seafood cazuela (a Chilean stew) and a duck version of that Mexican classic, chicken mole.
Maldito Mendez started life as a waterfront caravan operation during the Rugby World Cup and was a founding tenant in Ponsonby Central, which celebrates its first birthday next month. It was so busy at the start you couldn't get in the door, which partly explains why it was, until last week, the only eatery in Ponsonby Central I had not tried (bar a lunchtime drop-in for a taco of very dry pulled pork).
It is now the only eatery I will not try again.
This is not to say that it's particularly bad. But it's really defiantly ordinary and so at the end of a very modest evening (two glasses of wine) a $150 bill for two seemed close to extortionate.
It's a good-looking place: tiled walls and floor - the second of which looks like it's been well walked on - giant bottomless bottles for lampshades, and old-school cafe furniture, including barstools.
I have read reviews that say much of the fit-out was imported from Uruguay but it doesn't have that kitset feel you can get in instant Irish pubs.
We bypassed the menu of picadas (snacks) that includes those empanadas and croquettes made of bacalhau, the salted cod that is one of Iberian cuisine's more grievous mistakes. On the small plates menu, the fish tacos deserved their good rep: the crispy fish bites were topped with a chilli mayo, a fresh slaw (of which more later) and a tomatillo salsa. Less impressive was the ceviche where the kitchen's ambitions smothered the purity of an unimprovable idea: pencil-thick slices of hard coconut meat looked good on the plate but their texture didn't work with the fish, which was dry and tasteless (I fancy it had been made many hours before).
The huevos rancheros (a breakfast dish, really, but never mind) consisted of two undercooked eggs semi-submerged in a cheerless sea of black beans that were described on the menu, quite inaccurately, as spiced. This dish cost $25.
The sticky pork belly was quite well done, scattered with the crispy bits of pork rind known as chicharrones. I suppose I should have noticed that the menu said it came with the same red cabbage slaw we had ordered as a side, but it should have occurred to someone to suggest an alternative.
It certainly helped with the five-plus a day.
Desserts - a chocolate mousse and a flan made of dulce de leche - were perfectly satisfactory but the competition's hot for this slice of the market and this seemed like an ordinary meal at an extraordinary price.
Verdict: Overpriced and underwhelming.