You'll grin when the kids put their toys away, says Greig Morgan.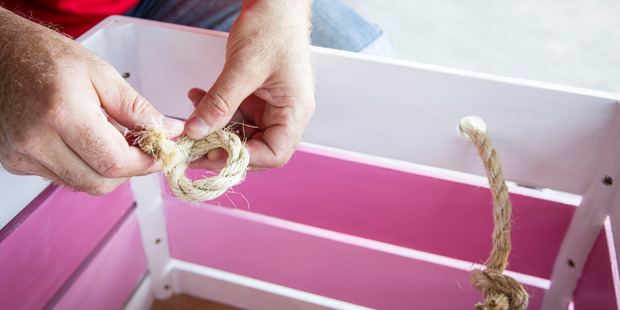 Sometimes it feels like Mission Impossible to keep children's toys neat and tidy. Whether you live in a compact apartment or a spacious mansion, it's easy for Lego and stuffed toys to end up everywhere. With this handy toy-box-on-wheels, there should be no reason the youngsters can't tidy up after themselves. They might even have fun.
Step 1
Measure and mark side and end pieces (90x10mm) with the aid of a square. Cut along the waste side of the line. You can make this as a square: I cut the sides longer than the end pieces for a rectangle shape to fit the room I had.
Step 2
Cut slats to length. I made the box four slats high but, again, you can vary this. Fix the end pieces to side pieces with panel pin nails, top and bottom.
Step 3
Measure and cut the 45x10mm to fit flush inside the bottom of your assembled box section. Fix from the inside with 15mm screws.
Step 4
Measure and cut four lengths of corner quad. Start with your bottom box section, fix the corner quad with 15mm screws. Be careful not to screw right through.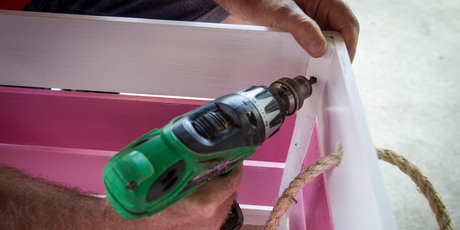 Use a 10mm offcut as a spacer between the bottom box section and the next box section, fix in place. Repeat until all the box sections are in place. Trim off corner quads flush with the top box.
Step 5
Measure and cut two lengths of 90x10mm for the bottom supports. Measure carefully so they fit neatly, flush and evenly spaced apart. Fix in place by skew nailing panel pin nails.
Step 6
Measure and cut a piece of 7mm MDF for your bottom piece. Mark and cut around the corner quad, then screw the bottom in place.
Step 7
Overturn the box to place and fix casters to corners. Use the screws provided with the casters.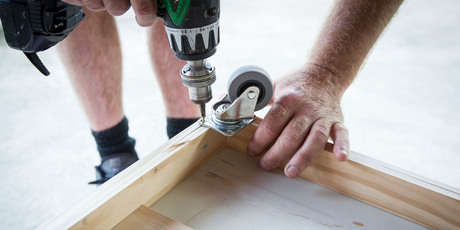 Step 8
Measure and mark centre slats on the end pieces for the placement of the rope handles. Drill holes large enough for the rope to fit through easily. Cut the rope, leaving plenty of length to tie a big knot at either end. Thread through the holes, knot and trim ends.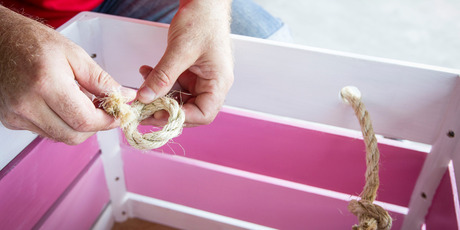 Tip: If you plan to paint your toybox, fill the nail holes, sand and paint assembled box sections and corner quad first, before putting together.