Making that ready meal look appetising on the packet requires plenty of photographic skill and maybe a little rearrangement.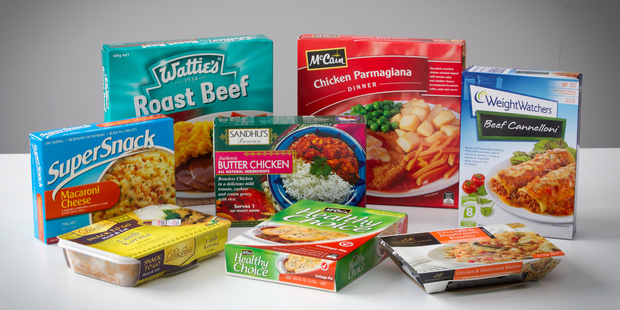 The same thinking goes into frozen food packaging as when dressing for a date - you want to look your best. The trouble is what you see may not be exactly what you get.
"You're still the same person and it's still the same product, but you want to give it a presentation that shows off a product to its best advantage. You just take a different level of care," said seasoned food stylist Dianne Kenderdine.
New Zealand has strict regulations about what can be displayed on the box and manufacturers are careful to say that packaging pictures are "serving suggestions".
However, they have to be accurate representations of the products, right down to the actual portion size.
And at photo shoots for frozen food products, stylists have to use one of the cooking conventions on the pack - usually they would choose a more gentle process than microwaving.
"Fats sort of look duller when they're cold, so you've got to have some kind of degree of warmth but it wouldn't be as piping hot as you'd serve it to eat," Mrs Kenderdine said.
But the stylist, who's worked with food brands such as McDonald's, Nestle, Valentines and Arnott's, said when she styled a product she went armed with dental equipment for delicate work, paint brushes of different sizes and a hot-air gun.
"There have been times when I'd do something like a stew mixture and I'd sieve out the bigger pieces to ensure they look beautiful, make sure the sauce was nice and smooth and then reassemble them.
"It's still the same product, but there's a difference between a teenager rushing and throwing a meal in the microwave, then plonking it on a plate, and what I would do."
The photography was also very detailed, with careful lighting and the lens nearly touching the food.
The quality of the image also depended on what sort of wrapping was used - for example, green peas showed up more brightly on cardboard than plastic, Mrs Kenderdine said.
The Herald tested eight frozen food products. Only some had been photographed in New Zealand for packaging purposes - and Sandhu's butter chicken was photographed in Wellington by the small company's chief executive, Surinder Sandhu.
"There was no formal process as such, no Photoshopping involved. Merely the original product cooked and presented by us," he said.
Mr Sandhu said it was a challenge to photograph curries with meat because gravy often tended to cover the pieces. So to get around that, they placed the pieces in such a way that they were clearly visible and highlighted. Also, as the shot was close-up, every little detail was highlighted, which made the meal look more appetising, he said.
"Since the time we first started to supply our frozen meals almost 10 years ago, we have never received a complaint about the taste and quality of this product.
"The only complaints we have received have been to do with not enough chicken pieces in the pack as are seen in the picture. No more than five to six complaints in the last 10 years."
Another of the eight products styled in New Zealand was the Signature Range meal.
Grant Monigatti, the merchandise manager responsible for the Countdown-owned brand, said the company aimed to show an accurate representation on the pack of what's inside.
However, as with any food product, total uniformity wasn't always possible and there could be variances from time to time.
"We haven't had any complaints regarding the photos of the product but we'll certainly take the feedback on board for any future updates to the packaging."
A spokesman for McCain Foods said the photography depicted the actual product as "realistically and as accurately as it can".
The photographs on the packaging for the Healthy Choice Cottage Pie and Chicken Parmagiana were taken in Australia.