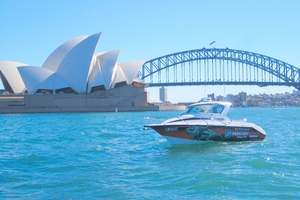 A strikingly decorated New Zealand designed and built Rayglass Legend 2350 has been gaining a following in the marine centres of Australia.
The TDi-powered Legend 2350 is on a road trip around Australia, visiting Mercury Marine dealers and showcasing the way the new Kiwi Rayglass Legend and MerCruiser's new 3-litre TDi diesel combine.
"The road trip is proving a huge success," says Rayglass CEO Dave Larsen, "and follows what was a very good Sydney International Boat Show for us.
"Since its launch at the Hutchwilco New Zealand Boat Show in Auckland in May, the Legend 2350 has proved enormously popular with strong inquiries and orders coming from all over New Zealand and now from Australia as well."
One of New Zealand's most successful marine businesses, Rayglass exports to 27 countries and employs more than 60 people.