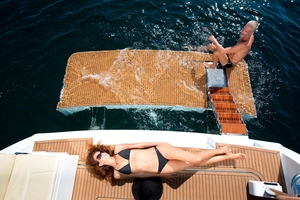 When Busfield Marine - the Westhaven brokerage founded by NZ Marine's Peter Busfield - opened its doors in 1988, New Zealand had vibrant yacht and launch-building industries.
In those days, as a junior writer on a major boating magazine, one of my monthly tasks was to drive around the boat-building yards to photograph and report on the boats under construction. It was a days-long task.
I would spend almost an entire day just in South Auckland (mainly East Tamaki), another out West and yet another on the North Shore.
Sadly, virtually none of the yards I visited now remain. At the recent Auckland On Water Boat Show, the vast majority of New Zealand-built boats were not in the water but on land - and those were not yachts and launches but trailer powerboats.
Of the boats in the water, few were built locally and most of those were large, aluminium trailer boats. Sadly, bar few exceptions, the yachts and launches that so impressed on the marinas were all built in some faraway manufacturing plant.
That change from built locally to manufactured overseas has had a big impact on the local marine industry and not least on those who make their living selling yachts and launches.
Busfield Marine owner and industry stalwart Bill Rutherford has felt the effects. Having worked at Sea Nymph when it was one of this country's most prominent boatbuilders (producing powerboats, trailer yachts and the iconic Farr 1020 and 1220 yachts) he, too, experienced first-hand the heyday of New Zealand-moored boat production.
As the owner of the Nav Station, he has also, for many years, been a go-to for those looking to install or update their electronics.
As the owner of Busfield Marine since 2008, he accepts he needs good imported brands to satisfy Kiwis' needs for new yachts and launches in the second decade of the 21st century.
Rutherford freely admits that one of the best things he did after buying Busfield Marine was to secure the Bavaria Yachts agency.
"It has been an incredible success for us. There are now over 100 Bavarias happily sailing around our coasts," he says.
"I think it is fair to say that Bavaria Yachts are now New Zealand's most popular production yacht brand."
Based, as the name suggests, in the German state of Bavaria - also home to BMW (Bavarian Motor Works) - Bavaria Yachts appealed to Rutherford for a number of reasons: it already had a foothold in New Zealand and he saw it as offering good quality and good value for money.
He also liked the fact that New Zealander Bruce Farr, designer of the Farr 1020 and 1220 all those years ago, was intimately involved in the design of Bavaria's sailing yachts.
It is therefore no surprise that for Busfield Marine's 25th anniversary, Rutherford celebrated by adding Bavaria's motorboat range to his fleet.
As he explains, there is a lot in common between the Formula 4000s and Farr 1220s that Busfield Marine originally sold and the Bavaria motorboats and yachts the company sells now.
"All are well built, easily driven, big-volume boats that offer very good value for money for New Zealand boat owners."
Rutherford says his research has shown that the Bavaria motorboat range will offer the same combination of good value and great workmanship that he and his owners have experienced with the sailboat range.
"Although Bavaria's motorboats are clearly some of the best-value powerboats on the market, they are also built to very high standards of quality," he says.
"The Bavaria yard, which employs more than 600 people, is one of the most modern boat-production facilities in the world."
He says the Bavaria motorboat and yacht ranges surpass all of the CE requirements, and both they and Bavaria's production facilities are independently inspected by the highly respected Germanischer Lloyd classification society.
"Bavaria uses a clever mixture of innovation, modern construction methods, computer-aided manufacturing processes and highly skilled craftsmen to ensure these high-quality boats are produced comparatively inexpensively," he says. "We are then able to pass on that competitive advantage to our customers."
Rutherford says Busfield Marine will initially offer Bavaria's Sport range of motorboats as well as the company's new Virtess 420, which will be available as either a Flybridge or Coupe.
"This is a seriously good vessel," he says. "Within months of its release, the Virtess 420 Flybridge had won three prestigious awards - and that's no surprise when you see all the innovative features that have been included.
"For example, both the cockpit table and the accompanying seat bench can move around on a guide-rail system. This means they can be positioned for either al fresco dining or to ensure easy access to the very special, full-width, partially submersible bathing platform."
Rutherford is equally enthusiastic about the Bavaria Sport range of motorboats, which have been developed in collaboration with the BMW Group DesignworksUSA.
"These are modern motorboats for those who really enjoy their time on the water," he says. "There are five models, from the Sport 29 to the Sport 44 Hardtop, and each boasts a strikingly successful blend of timeless design, utmost comfort and excellent performance."
Like the yacht range, Busfield Marine's new Bavaria motorboats will be available with a range of interior layouts, upholstery choices and accommodation plans.
Although none have yet arrived in New Zealand, the two motorboat ranges were profiled on the Busfield Marine stand at last weekend's Auckland On Water Boat Show.
Rutherford said he was encouraged by the positive feedback he received.
"The bigger boats [in the 39- to 44-foot range], which we thought would best suit the New Zealand market, were particularly well received."