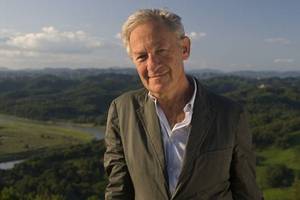 Simon Schama's beginning is Egypt. But it is not the beginning of patriarchs and prophets.
No: Schama's beginning is a letter written from a worried father to his mercenary son in 475BC in which he frets about a tunic and the young man's pay. It is, he says, "the documented beginning of ordinary Jews", and it is the overture to this utterly absorbing book.
The letter, one of many papyri left for two and a half millennia, was discovered at Elephantine, an island on the Nile, by an amateur American Egyptologist in 1893. He was after bigger game - more ancient and impressive Egyptian antiquities - and the incidental scribbling did not interest him. But for Schama the papyri give us something "earthy and mundane" and are all the more valuable for it.
They are "the quotidian record of the lives of the expat Judeans and Israelites with whom we can keep company as naturally and materially as if we were living in their neighbourhood: tough guys, anxious mothers, slave girl wives, kibitzers and quibblers".
Elephantine was the last outpost of civilisation on the fringes of the Nubian Desert. The Judean Troop maintained the garrison. While the Elephantine Jews forged their way of life, the formative books of scripture were being written in Jerusalem. These books were aimed at purging Judaism of foreign influences and habits - aimed at the kinds of practice going on in Egypt.
The Judean Troop and its world came to an end in the 4th century BC. For Schama its history is not an anomaly, an entertaining dead end, but a forerunner in the Jewish story.
This little-known story exemplifies Schama's approach in his magisterial The Story Of The Jews. It is rooted in the remains of normal life and makes for a compelling journey.
There is a dialogue between the distant past and the present throughout. Schama gives us the boisterous voices of ordinary Jews, written at the same time as the Bible.
"Sometimes," he writes, "the writing is so marvellously crowded on to the pottery shard that it feels like the equivalent of Jews talking over each other, not letting the other get a word in edgeways."
Schama lets the sources, and the people behind them, do the talking and drive the narrative and uses archaeological discoveries to tell other stories. The extraordinary synagogue, dating from AD240, unearthed at Dura-Europos on the Euphrates, contains magnificent frescoes depicting Biblical scenes. That revelation, and other mosaics recently found, changed how people thought about Jewish practice in the centuries following the destruction of the Second Temple at Jerusalem and reversed the assumption that images were banned. It also shows how observant Jews were responding to living among pagans and Christians. Jerusalem was rebuilt in the imagination, and Judaism remade with images as much as texts in these formative centuries.
Words and images are at the heart of this unforgettable work, a cacophony of conversations and clamorous arguments echoing across history.
The Story of the Jews by Simon Schama (Bodley Head $39.99)