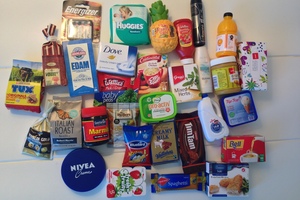 I used to get excited about the free gifts cosmetic companies offered with skincare purchases. But now I turn them down, knowing the bag and teeny tiny products within it will get no further than my bathroom cupboard where they will be stored for years until some fit of domesticity ensures they are disposed of.
I'm so used to refusing things and answering in the negative that I do it automatically.
No, I don't have a FlyBuys card. No, I don't want to write my details on a coupon to enter a draw. No, I don't want a paperback novel when I buy moisturiser at a pharmacy. No, I don't want to purchase two cheap chocolate bars with my petrol. And, no, I don't want the pleasure of buying some tat for a reduced price because I've spent over a certain amount.
When I order four bread-rolls at the bakery, I definitely don't want to buy six in order to qualify for two free ones because then I'll have eight bread-rolls which is precisely five more than I needed in the first place (since it's likely I'd already been optimistic about our consumption levels).
And, no, I don't want to choose a third Kikki K greeting card for free because (weirdly enough) all I needed was the two I'd already chosen. (Actually, that could have been handy but it's too late now.)
I was finally punished for all my routine negativity one day early in September at the New World in Havelock North. As I paid for my groceries the checkout operator asked: "Are you collecting?" She waved her hand towards some display that interested me not in the slightest. "No, thanks. I don't collect," I replied, quite likely affronted that she'd pegged me for a collector of anything.
But back in Auckland I discovered that we were changed people and that we very definitely did collect these miniatures that belong to New World's Little Shop series. My daughter possessed the start of a collection and I kicked myself for not taking those offered to me in Hawke's Bay before I knew how valuable they were and how coveted they would become.
Some of our favourite pieces are: Bell tea, Gregg's mixed herbs, Mainland cheese, Marmite and TimTam biscuits. We are missing: the banana, Milo, mini éclairs, Persil and Wattie's spaghetti. For the uninitiated, for every $40 you spend at a New World supermarket you receive one of 44 gorgeous little replica grocery items.
Sounds dull, I know. But there is something about them. The resemblances are striking. The attention to detail is remarkable. Some are made of cardboard, some are plastic but, importantly, all feel exactly as they should. You'd swear the bag of potatoes contains miniature tubers and that there are actual nappies inside the wee Huggies packaging.
To say this promotion has gone off is an understatement. The Bay of Plenty Times reported that bidding wars over these items erupted on Trade Me; one buyer paid $26.50 for a mini Marmite.
Close to one thousand people liked a Facebook page set up to swap, buy or sell them, and at the end of September Kate Hawkesby tweeted: "Spending my Saturday night trading New World minis". She wasn't the only one.
I wonder how we'll know that this has all gone too far. Will we even recognise the point that this craze shifts from harmless pastime to something verging on dangerous obsession? Who am I kidding? It happened in our household when my husband took six of our double-up items into his office to do a spot of trading. It was his idea, too. When will the miniature madness end?
Have you been swept up in the miniature mania? Or are you too smart to be seduced by a cynical marketing ploy? More importantly, do you have a spare Milo or Persil?