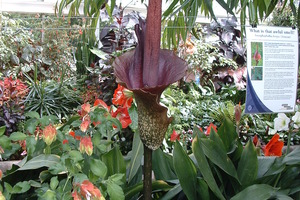 A lily which smells like a dead hedgehog is being touted as an attraction for the Wellington Botanic Garden's Spring Festival.
The Begonia House devil's tongue lily, or amorphophallus, has been described by Botanic Garden staff as "sinister-looking" and is looking ready to flower this weekend to coincide with the start of Spring Festival.
The velvety black-maroon lily looks beautiful but smells of "essence of dead hedgehog" Botanic Garden staff say.
The lily originates from South-east Asia, though one variety is native to Australia.
Every year in late spring it pushes up a single, spotted leaf stem. The leaf, nearly as wide as it is tall, then collapses in autumn.
The flower spike can come up at any time, but not while there's a leaf.
It takes several days to open fully and the rotting meat smell attracts flies for pollination.
Botanic Gardens visitor services officer Charmaine Scott said a visit to the lily would provide a nice contrast to the beautiful tulips and spring blossom.
"We estimate it will be flowering this weekend and by Tulip Sunday the smell is likely to be at its worst."
She said the lily grows well indoors but takes around seven years to flower.
"Then, when it does, you'll wish it hadn't because you'll have to move out or put the lily in a shed to get away from the stench."
Spring Festival launches this weekend with Tulip Sunday and its display of 25,000 blooms, followed by a week of more than 30 other events.
- APNZ