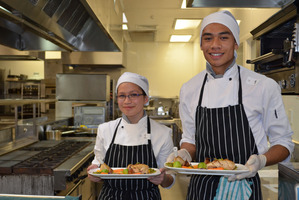 A teen singled out for kind words from foul-mouthed superstar chef Gordon Ramsay will vie for his first national title tomorrow.
Papakura High School student Anthony Kapeli-Sua, 17, and his 18-year-old schoolmate Joy Gesmundo are among five teams of high school chefs competing in the National Secondary School Culinary Challenge. The duo won a spot in the MasterChef-style event, which gives teams an hour and a half to prepare, cook and present entrees and main courses for four.
Kapeli-Sua and Gesmundo won the Auckland regional secondary schools challenge in June.
Kapeli-Sua caught the attention of the notoriously tough-talking Ramsay when the celebrity chef visited Auckland in April.
Ramsay told Kapeli-Sua he should "stop by and see me in London".
Kapeli-Sua, who will finish high school this year, said he planned to take Ramsay up on his offer - including asking for a job.
"I'll probably knock on his door and say 'remember me?' I think I'll politely apply for a job."
Ramsay will have to be patient though.
Kapeli-Sua wants to qualify in patisserie and culinary arts before he lands in Europe.
The winners of tomorrow's competition each receive a prize package including a $2,000 City and Guilds scholarship.