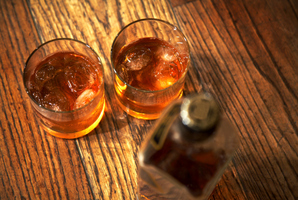 Mixing booze with energy drinks might keep drinkers partying longer through the night, but a researcher warns the combination could result in a higher concentration of alcohol in the system and an increased risk of aggressive behaviour.
However, the dangers were not fully known and research into the issue had been largely funded by energy drink companies, said Associate Professor of Psychology Peter Miller from Australia's Deakin University.
His comments have been published by BMJ - formerly the British Medical Journal.
Some studies showed alcohol drinkers who consumed energy drinks were more likely to record a higher blood alcohol concentration than those who did not, were more likely to engage in aggressive acts, suffer injuries and show symptoms of alcohol dependence, Dr Miller said.
However many reports underplayed the role of energy drinks as mixers because much of the research around the issue studied only the effects of combining low levels of alcohol intoxication with a single energy drink.
Some researchers concluded "we should not be concerned about the risks", he wrote in BMJ.
However, some of those researchers had been funded by a major producer of energy drinks, Red Bull, Dr Miller said.
At an Australasian Professional Society on Alcohol and Drugs conference last year, 80 per cent of researchers had received financial support from Red Bull, and all concluded that no evidence showed the combination of energy drinks and alcohol increased drinking or chances of harm, Dr Miller said.
Only the independent presenters argued that more research was needed to assess the associations.
It is "critical that the public can be confident in the findings of research", he said.
Dr Andrew Hearn, New Zealand's Health Promotion Agency general manager policy, research and advice, said there were risks associated with mixing alcohol and energy drinks.
Several clinical studies indicated that mixing the two products could de-sensitise the consumer to their level of intoxication, he said.
"This had been found to result in a higher tendency for consumers of the combined products to place themselves in harm's way or to harm others."
The research found the group who combined alcohol and energy drinks consumed greater amounts of alcohol than those drinking just alcohol, and "had a higher prevalence of alcohol related consequences including being taken advantage of sexually, taking advantage of someone else sexually, riding in a car with an intoxicated driver, being physically hurt or injured, and requiring medical treatment", Dr Hearn said.
Nobody from Red Bull NZ was available for comment, but on its website, the company said there was no indication that Red Bull Energy Drink had any specific effect (negative or positive) related to alcohol consumption.
"This was confirmed by the UK Committee on Toxicity (2012) which concludes that "the current balance of evidence does not support a harmful toxicological or behavioural interaction between caffeine and alcohol".
- APNZ