Danielle Wright sets out in an iconic car to uncover Italian things in Auckland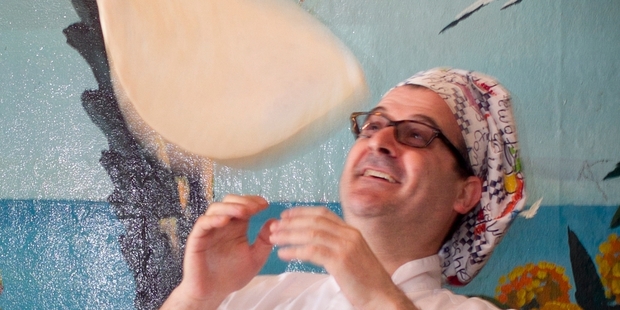 Ever since watching The Big Blue and seeing Jean Reno as Enzo punch out the front window on his beaten-up Fiat 500, I've wanted one. My wish comes true - temporarily - thanks to Andrew Simms in Newmarket with the new fire-engine red, velvet finish version Fiat 500 Sport 1.4: $25,000 worth of bright cuteness.
"It's a really happy car and the people who buy these are really friendly types, passionate about the brand," says car salesman Steen Pearce, who admits he doesn't love cars. Some days, in fact, he hates them. But, he loves meeting new people, especially Fiat 500 owners.
We get beeps of recognition from other Fiat 500 owners as we head out to see all the Italian things possible in Auckland in one busy day. It's a zippy little car with seven air-bags and a five-star safety rating, as well as its obvious charms. So off we set in our little Italian car to discover Italian Auckland. Perfetto.
Parla Italiano
The first stop is to familiarise ourselves with the language. My children realise many of their favourite words are Italian - pasta, pizza, mamma mia! - so that's a start.
The tiny room at the top of the Freemans Bay community centre overflows with Italian picture books - fairy tales such as Cinderella and even Leonardo da Vinci for Kids. There are also Italian VHS movies, puzzles and games such as Manopoli.
We play a game involving learning different moods - Triste, Felice (Sad, Happy) and then head downstairs for a running race based on the words the children have just learned. Learning Italian is not only good for the children's linguistics, it's also a great way to meet other families with Italian heritage and to gain access to the Italian resources.
The Dante Alighieri Society is an international organisation established in Italy in 1889 and it provides language classes for children and adults, plus events such as talks, concerts and parties.
* Children's language learning class, Freemans Bay community Centre, $90 a term. dante.org.nz For a special Italian storytime session for children, visit Arcadia Bookshop, 26 Osborne St, Newmarket, on Sunday, September 29 at 1.30pm or 3pm. No previous knowledge of Italian necessary.
Cucinare cibo Italiano
The choice of Italian restaurants in Auckland is overwhelming, but we wanted to learn how to cook like mamma does.
So, on a beautiful sunny Saturday, we stop at Andrea Restaurant on the Mission Bay seafront to show our daughter some Italian food appreciation. In fact, we get her to make her own lunch for a change, which she loves.
Owner Andrea Bizzarri learned to make tortellini, gnocchi and home-made spaghetti beside his grandmother in the family home in southern Rome at age 5. He's full of Italian charm as he shows us how to make pizza and toss it into the air, as well as creating long sheets of pasta ready for cutting into tortellini. He also has a special friend, a restaurant "cricket" that entertains the kids as he's demonstrating - Andrea is not only a chef, he's also a talented insect noise-maker, too.
As well as the children's classes, he holds cooking classes for groups of adults - often work groups celebrating a success or for an end-of-year party.
"We have kids' groups every Saturday," says Andrea with a smile. "They're not so much trouble as the adults, probably because they don't drink alcohol!"
* 97 Tamaki Drive, Mission Bay, ph (09) 528 5398. Kids Do-Your-Own-Dinner $36.50 a person, ages 8-14, minimum 10 children.
Gelato Italiano
Italians have long loved frozen treats. Back in ancient Rome they apparently ate versions made from ice or snow.
On summer evenings in Italy, the gelato shops are the busiest shops in town and Auckland is lucky to have quite a few good gelato shops. Even in a cold spring, we were happy to make this stop.
Between two make-your-own yoghurt shops is the delectable Giapo, run by Gianpaolo Grazioli, born somewhere between Naples and Sorrento. For six years, he has been working on inventive, eye-catching icecream creations topped with garnishes and patisserie in clever combinations.
On-site is a research kitchen where they develop ideas such as a "warm" icecream and a degustation menu on which icecream is paired with music and smells. Check the website for the day's amazing flavours.
"Our icecream is organic using New Zealand ingredients. What we do takes a lot of know-how," says Gianpaolo.
"There's nothing like Giapo in the world."
One try of a Giapo icecream and you'll agree: delizioso!
* 279 Queen St, Auckland City - near The Civic, Ph (09) 550 3677.
Acquisti
Sadly, we were not in the market for Gucci handbags or a divine Boffi kitchen, so our last stops on the Italian tour of Auckland are some more whimsical Italian finds.
We stopped to try out the plastic couches at Kartell in Teed St, Newmarket (Guilio Castelli founded Kartell in 1949 with the idea to "bring plastic into the home") and then on to Britomart to Seletti Boutique.
Filled with amusing Italian design, Seletti Boutique has quirky offerings such as the Estetico Quotidiano collection of containers for food and drink made by reproducing the shape of throwaway containers in durable materials - for example, a toothpick holder made of porcelain in the shape of a tin of sardines. But it was their completely adorable Abici bicycles in pastel colours that almost had me rethinking my Fiat.
Check out their opening party at the new Newmarket store on Sunday, September 29.
* Kartell, 35 Teed St, Newmarket Ph (09) 522 7099.
* Seletti Boutique, 52 Tyler St, Britomart, 9 Osborne Lane, Newmarket Ph 021 222 6200.
Festival Italiano
The Festival Italiano street festival will turn Osborne and Kent Sts in Newmarket into pedestrian-only thoroughfares with an Italian market of more than 30 stalls, musicians and entertainment, plus the chance to win a trip to Italy.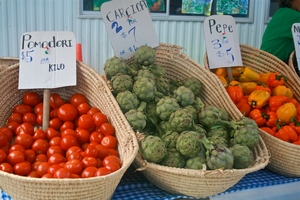 If you can't make it on the day, there's more than three weeks of Italian culture, music, food and design in Newmarket.
Events include opera recitals, pasta-making workshops, Italian-style street theatre or an evening with Nicky Pellegrino sharing her new novel The Food of Love Cookery School.
The Ferrari Club will be bringing their machines along to Lumsden Green (Saturday, September 28, 29, 11am-3pm) so you can chat with the owners, look under the bonnets, rev the engines and revel in the best of Italian engineering.
Kinder House's Links to Italy exhibition celebrates artistic connections to Italy, including Peter McIntyre and Girolama Pieri, John Kinder and others.
Street Festival, Osborne St and Kent St, Newmarket, Sunday, September 29, 11am-4pm. Newmarket Italian Festival, Wednesday, September 25 to Friday, October 18.
See newmarket.co.nz for shopping specials and event details.
Italian Film Festival
To gain an appreciation of the uniqueness of Italian film, My Voyage to Italy by Martin Scorsese puts into perspective the beautiful, often harrowing, Italian film history.
For a modern selection - from a figure skating opera combination shot at the historic Verona arena to the poignant Shun Li and the Poet - try the Italian Film Festival, with something for everyone to enjoy. See Peter Calder's preview page 12.
Wednesday, September 25 through to Sunday, October 13.
See italianfilmfestival.co.nz for further details.