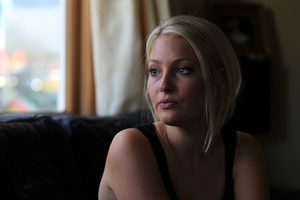 Trust your gut or, more accurately, trust your brain, says neurosurgery survivor Rhozie Edmonds.
Edmonds went against medical advice and went to Sydney so a surgeon could remove a cyst from her brain. Now she's celebrating the decision.
Edmonds, mother of Mack, 3, and Madison, 7, told the Herald on Sunday in January a pineal cyst in her brain was causing terrible headaches and debilitating hangover-like symptoms such as constant swelling and pressure inside her head and noise sensitivity.
Pineal cysts are usually, but not always, asymptomatic. When doctors advised the Tauranga mum her troubles weren't caused by the cyst, Edmonds sought the opinion of Sydney specialist Charlie Teo.
"He couldn't promise my symptoms would go away, but he was willing to help me," she said.
In June, after an impressive effort to raise $70,000 of the $110,000 needed, Edmonds had the 20mm cyst removed from where it was wrapped around a vein in the middle of her brain.
She said she wasn't scared. "I was so fed up with the cyst that I would quite happily die trying to get it out.
"I had to get it out. I couldn't be a decent mother, I couldn't work, I was just living in a prison of my own body. My son would fall over and hurt himself and I'd have to ask him to stop crying before I could comfort him, otherwise the noise would just trigger my symptoms."
She returned home a week after the operation, prepared for a year-long recovery. "I don't have headaches or head pressure. I have energy in the mornings," she said.
Edmonds still experiences "brain fog", but hopes that will subside.
Her conclusion: "Trust your gut. I knew there was something terribly wrong with me. I just needed somebody to help me. I needed somebody to take me seriously.
"The most traumatic thing wasn't brain surgery, it was fighting for an answer, fighting for an MRI - I fought tooth and nail the whole way and I'm exhausted now."