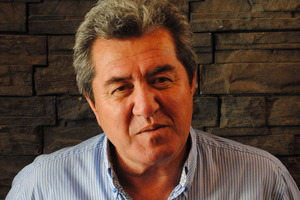 The book I love most is ... Tim Winton's Cloudstreet. Winton should have won at least two Booker prizes. He's out on his own, a world-class writer. Also anything by Elmore Leonard. He understands the banality of the criminal mind, how monumentally stupid criminals are as they inflict entertaining mayhem on each other and society.
The book I'm reading right now is ... Ethan Frome, by Edith Wharton, written in 1911. It is very insightful, but a bit dated now.
The book I want to read next is ... The latest from Aussie writer Tim Winton. His short stories are musical masterpieces. He is so good I feel like becoming a property developer. Just saying.
My favourite bookshop is ... Any and all. Here in Biarritz, France, where I live, we have some beautiful bookshops.
The book that changed me is ... William Faulkner's Light In August. Gerard Manly Hopkins' poems. Hubert Selby jnr's two great novels Last Exit to Brooklyn and Requiem for a Dream.
My grandfather's book of selected columns for the Listener. The magnificent, lofty American E.L. Doctorow, who wrote the classic Ragtime, as well as Billy Bathgate, which has got about the best gangster execution scene you'll ever read.
The book I wish I'd never read is ... I have failed every attempt to finish any book by Martin Amis. How did he become famous? His mate Salman Rushdie is the same.
Alan Duff is the best-selling author of Once Were Warriors. His latest novel, Frederick's Coat (Vintage), is out now.