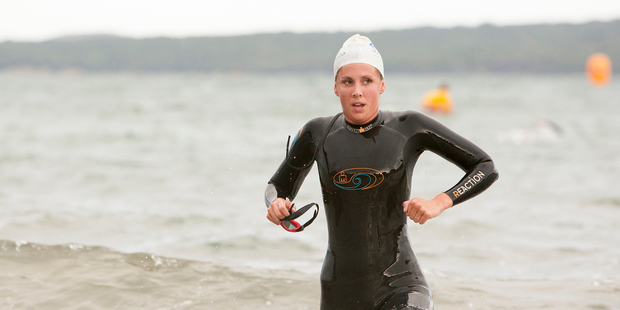 My happy place is ocean swimming. I've been swimming for about 20 years. I grew up on the North Shore doing surf lifesaving, pool swimming and water polo, and I love everything to do with the water - fishing, surfing, swimming. It's just such a good feeling.
Ocean swimming is a lot more challenging than pool swimming but that's part of the fun.
There's no black line to follow up and down, so you're constantly putting your head up, seeing where the buoys are, seeing if you're staying on course. Quite often the seas are choppy so you might have to stop and look over the waves.
I don't do it to win, but at the start of a race I can get butterflies. It can be quite rough at the start - there are so many people swimming off together. Elbows come out and you can get one in the face, or get kicked.
Once I'm out in the water and everyone's separated, it becomes more relaxing. It clears my head.
I try to concentrate on my technique, and what I'm doing and what's happening around me, but quite often my mind wanders and I can be thinking about anything.
I have kind of a bad habit of sometimes saving myself until I can see the finish line or see the beach, and I'll start sprinting then.
Running over the finish line is the best feeling. Your body is so sore and you're so tired, but you know you've just gone out there and swum across the harbour, or from Russell to Paihia, or whatever it is, and not many people can say they've done that.
The first big swims I'm training for this year are the Russell to Paihia swim in December, and crossing the harbour from Bayswater to the Viaduct in November.
I mostly train at Takapuna Beach, as well as the Tepid Baths during the week and in winter.
On a Saturday morning in summer I'll go down to Takapuna Beach and swim for a couple of kilometres, often with my husband.
On Tuesday nights in summer I'll meet my friends and family down at Takapuna Beach for the State Beach Series, which is a casual race.
We'll make a night of it - it's such a good bunch of people and a cool social environment. I look forward to every Tuesday during summer.
Swimming has helped me realise you can achieve your goals if you work hard enough.
I'll keep on swimming for as long as I can.
The State New Zealand Ocean Swim Series includes the Auckland Harbour Crossing on November 17 and the Bay of Islands Classic on December 7. See www.oceanswim.co.nz. The State Beach Series on Takapuna Beach begins on October 29. See www.beachseries.co.nz