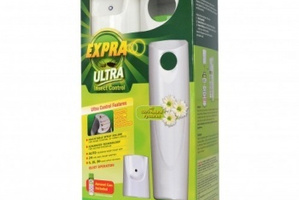 A popular natural insecticide is being forced to change its labels after a woman's dog got so sick it could barely move because of the spray.
And DIY chain Bunning's Warehouse is now putting pressure on suppliers of automatic pyrethrum dispensers to change their labelling to include warnings about the risk.
Pyrethrum is a natural insecticide made from the dried flower heads of Chrysanthemum cinerariifolium and Chrysanthemum coccineum.
The issue was uncovered when Julie Seddon's dog, Sooty, became ill after she installed Expra, a 100 per cent natural pyrethrum product, in her Epsom home about a month ago. Sooty, a Japanese chin, started trembling and getting lethargic about three days after she put the can in her kitchen.
Mrs Seddon said she had made sure the dispenser was 2m high and away from food, as advised. The instructions also said not to spray it directly on to animals, so she made sure it was well away from her pet's dish and sleeping spot.
But Sooty's condition worsened and he was soon "virtually unconscious". A vet found that the dog's organs were dehydrated from high levels of enzymes, consistent with poisoning from pyrethrum.
Mrs Seddon went to Bunning's Warehouse where she bought the spray and the chain conducted its own investigation.
They found that all 100 per cent pyrethrum sprays were potentially toxic to animals if they lived in the same room as the spray, even if it wasn't directly dispersed on them.
Bunning's Warehouse marketing manager Valerie Staley said they had contacted their suppliers with their concerns and "will work with them to improve labelling and the information shown on their packaging".
Mrs Seddon said Bunning's had also provided her compensation for the vet's bills.
Jeff Matthews, general manager of the Expra manufacturer, STM Group, said Bunning's had contacted them. They are now changing their labels to include an additional warning to not dispense the product where animals or humans slept, ate or spent long periods of time.
"More than anything, it's the volume. If you drink too much water you probably won't feel too well. It's all to do with levels."
The new warnings will be rolled out in their next manufacturing batch in about eight weeks.
A spokeswoman for the Environmental Protection Authority which sets the requirements for pyrethrum products said there had not yet been any complaints.
Pyrethrum
• Natural insecticide made from the dried flower heads of two varieties of daisies.
• Relatively low in toxicity to humans and mammals.