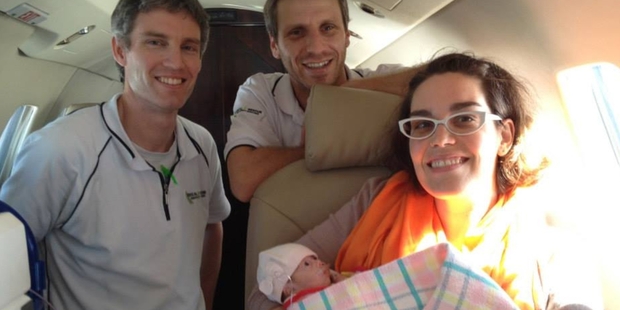 A Kiwi baby born three months early in Shanghai is finally home in Auckland, and has enjoyed her first cuddle with her mother.
Amy and Greg Hewgill were on their way home from a holiday in Europe when Mrs Hewgill went into labour in July. She was 27 weeks pregnant and gave birth to baby Lily, who weighed only 990g.
Until Saturday, Lily remained in an incubator at a Shanghai children's hospital. Mrs Hewgill stayed in China to care for her daughter and provide milk but Mr Hewgill had to return to Auckland to work so the couple could fund Lily's care, which had to be prepaid.
Through a fundraising website members of the public gave more than $100,000 to help the couple pay for Lily to be medically evacuated from China.
Last weekend the little girl was finally given the much-awaited clearance from her doctors, and boarded a plane in Shanghai with Mrs Hewgill and a team of medics on Saturday night.
They stopped briefly in Sydney so Lily could be transferred to a waiting air ambulance - where Mrs Hewgill got to hold her baby for the first time.
They landed in Auckland about 2pm on Sunday, and Mr Hewgill was waiting at the airport for them.
"It was just overwhelming to see them here finally," he told the Herald.
"We checked her into hospital and we both had a good cuddle with her. I hadn't seen her a lot, but there was a connection there, it was really relaxing, really peaceful." Lily is settled at Starship Hospital in the newborn intensive care unit.
"So far, Lily has had her first real breastfeed and her first ... cuddles from both mum and dad, all within the first 24 hours of her arrival," Mr Hewgill wrote on a Facebook page set up to keep Lily's supporters up to date.
"She had an excellent flight and although there were risks, she had no ill-effects. We spent more time with her today than we did collectively over the past seven weeks in Shanghai. The reality of all of us being together is still sinking in. The difference in level of family involvement between Shanghai and Auckland is overwhelming at times for us. We are absolutely elated that Lily is home and we can now see her whenever we want."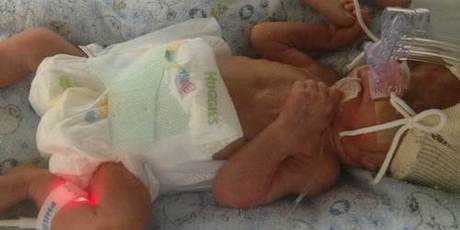 In China the couple could only see Lily one at a time, and only with special permission. Before leaving the country, Mrs Hewgill had only seen her baby a handful of times, and had never held her.
Mr Hewgill said he was proud of his wife and daughter.
He and Mrs Hewgill wanted to thank the people who had followed their journey, donated to their cause and supported their family.
"This wouldn't have been possible without the help of so many generous people," Mr Hewgill said.
• July 19: Lily Helen Hewgill born three months early in Shanghai.
• July 25: Emergency travel documents issued to Amy and Greg Hewgill for Lily.
• August: Mr Hewgill returns to Auckland to work, Mrs Hewgill stays in Shanghai.
• September 7: Lily and Amy leave Shanghai with a team of medics.
• September 8: They arrive in Auckland and Lily is settled into Starship Hospital.
To follow Lily's progress visit her Facebook page.