Greig Morgan makes a cake showplace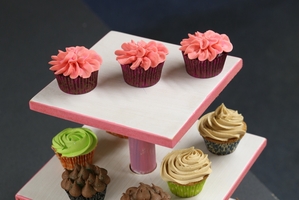 Who doesn't love cupcakes? And the kids are going to love you when you make one of these beauties. First, whip up a batch of mouthwatering cakes, then present them on this dishy cupcake stand. The great thing about this project is, you can make this stand to suit any occasion in any shape, size or height. For instance, for Valentine's Day you could cut a heart shape with a jig saw. But, for today, I chose a simple square design.
Step 1
With the aid of a square, measure and mark out on the sheet of MDF the three tiers. Cut along the waste side of the pencil line. The bottom is the largest, and the top is the smallest of the three.
Step 2
Now measure and cut four lengths of dowel - 30mm long for the legs, and one length of 280mm, this allows for ample space between tiers.
Step 3
Measure and mark the centre of the dowels, then pre-drill using a 3.5mm drill bit right through. Then counter sink for the screw head to sit just below the surface to avoid scratching tables.
Fix the legs to the corners of the bottom piece with 40mm screws.
Step 4
To find the centre point for the centre dowel, mark across diagonally from corner to corner, and drill a 3.5mm hole in the bottom piece for the dowel to be fixed to, then drill a 35mm hole for the middle tier.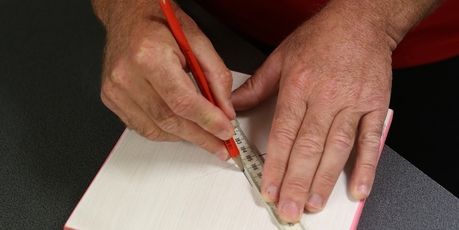 Step 5
Measure and mark the half way point on the dowel, then tack in four panel pin nails to help hold the middle tier in place for the glue to set.
Step 6
Glue the top of the dowel and fix the top tier down with a panel pin, punched down just below the surface, then fill with filler.
Tip
Round off all edges on the components, and paint before assembly.