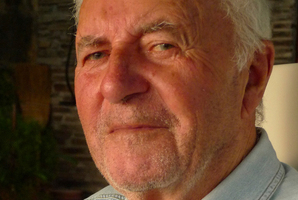 There can't be many authors who make their debut at the age of 87. Especially when it's with a memoir so unflinching and haunting as this.
The gardens of the title are the World War I cemeteries of Nieppe, on the French-Belgium border, tended by Stephen Grady's English father, who married a girl from the local cafe then settled to life in his new country. He expected it to be a quiet life: after all, "lightning never strikes in the same place twice".
It does, of course. In 1940, the Germans sweep through again. The narrator's father is imprisoned. Occu-pation and ordeal descend.
For 15-year-old Stephen it's mostly a lark at first. A practical joker from childhood, with a penchant for posting horse-dung through the letterboxes of stuffy neighbours, he gleefully loots wrecked Messerschmitts, uses a captured field telephone to inflict electrical shocks on neighbours and plays other pranks on the Verdigris, as the invaders are called because of their green-grey uniforms.
Shockingly, unbelievably, he's arrested. He spends weeks of terror in Loos Prison, while men are shot in the courtyard nearby.
He is released and instantly joins the Resistance. Then begin months, years, of sabotaging factories, moving shot-down Allied airmen towards safety, stockpiling sten guns under piles of mangelwurzels.
He never knows safety, neither do his family. In towns not far away, civilians are massacred in reprisals. A friend of his little sister threatens that if Elizabeth doesn't hand over her favourite doll the Germans will be told of the family's secret involvements.
But Stephen won't stop. Codenamed Iroquois, he sets fire to hay-trains with incendiary grenades, cycles 45km to interrogate a suspect bombardier, gets inadvertently straffed by a Lightning fighter and kills a German soldier.
It's a life of creeping fear where hardly anything is what it seems. A Vichy policeman turns out to be a Resistance hero. French police suddenly betray their own townsfolk.
The Allied invasion brings exultation but even greater danger. The teenager's Resistance cell is ordered to do everything possible to disrupt the German retreat. Attacks and reprisals become even more savage.
Even the war's end brings only limited personal peace. Friends are dead, the land is wounded, collaborators rush to save their backs, those who were most timorous during the occupation now claim most loudly to have been staunch patriots.
The book's final pages are heavy with loss and continuing pain. "My memory is still good, unfortunately. That's why the nightmares have not stopped." And that's why the 87-year-old, far in time and place from fears of arrest and torture, still boobytraps his garden with tripwires.
It's a narrative remarkable not just for the fullness of its recall, but for the perspective and power with which details are rendered. There's also an astonishing amount of humour: irreverent, defiant, profane.
"The less you know, the braver you can be," writes Grady early on. Yet the more he knows through those frightening years the more his courage endures. His book fittingly honours him.
Gardens Of Stone by Stephen Grady (Hodder & Stoughton $36.99)