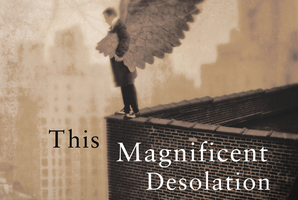 Taking its title from Buzz Aldrin's description of the lunar landscape, O'Malley uses the words to metaphorically describe the mental and emotional state of Duncan, at the centre of this spiralling novel.
Brought up in an orphanage in the harsh wastelands of Minnesota, his world is turned upside down at the age of 10 when his mother, Maggie, a former opera singer, appears and takes him to her home in San Francisco.
From the isolation of the monastery orphanage and its rituals and structure to his mother's drink-fuelled, unstructured existence, the book spends the bulk of its 401 pages tracking Duncan's search for his place in the world, for a meaning to his existence, and for male role models, whether in the form of his (possibly dead) father, or Joshua, his mother's occasional lover and confidant.
This is no glib, vacuous ride through San Francisco in the 1980s. It's a little difficult to say exactly what it is at all, though: O'Malley has ambitious themes, and a propensity to devote much real estate to swathes of dense text, some of it profoundly moving, some irritatingly overworked.
Although the word is overused, many of the dramatic events and, indeed, the characters themselves, border on the surreal: it's difficult to discern fiction from fantasy, a deliberate ploy, it would seem, to lend an otherworldliness to an already esoteric offering. It is, in a strange sense, Cormac McCarthy meeting The Vintner's Luck: space and silence blended with fantastic leaps of imagination.
A cook shows the roots of angel's wings beneath his greasy uniform; the increasingly unhinged Joshua talks to angels and begins to believe they are abducting his fellow tunnellers, beneath the Golden Gate Bridge. Duncan believes God talks to him, as do the voices in his Vulcanite radio, mainly those of Michael Collins who, in this world anyway, is left to orbit the moon endlessly, never to reconnect with Armstrong and Aldrin.
This endless orbiting and sense of disconnectedness is Duncan's default setting; the metaphor adds colour but seems a little obvious. And the endless chapter openings describing the San Francisco weather become tiresome, even when they're well written.
However, these are offset by passages of jaw-dropping brilliance, particularly when O'Malley describes music and his characters' interaction with it, through Maggie's famous voice or the old records spinning endlessly, like Michael Collins, in her room.
"Maggie sang Elizabethan madrigals and Catholic hymns and Baptist choruses and the low blue notes of Muddy Waters from the Mississippi Delta. And in all of this she searched for the divine, those notes and measures that could hold the soul, make the heart ache, and break it in two.
"These songs shared a special grace, for in them, Duncan knows, she found her way to God and, perhaps, as she sang, imagined what she was once capable of."
I liked this, too: "From the alcove Duncan grins. Sitting on his black motorcycle amid shimmering vapours from the steaming exhaust, Joshua is an angel and a messenger, a divine portent of things to come: He is an intercession of grace."
If only there'd been the intercession of an editorial pen, on occasion. Frustrating, then, is the ultimate conclusion. I wouldn't have missed it, and feel the better for having immersed myself in this intense, emotional ride. But fewer side roads and dead ends would have made for a greater experience.
This Magnificent Desolation by Thomas O'Malley (Bloomsbury $36.99).