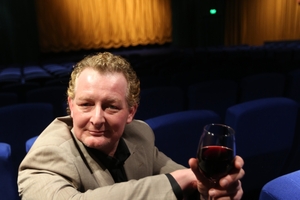 My happy place is going to the movies in the middle of the day. It feels naughty, like being a truant. At the moment, I'm acting and directing in a number of projects, mainly in the theatre but also in films. Going to a movie means I can completely turn my brain off - just relax and be swept away in a different world for a couple of hours. It's a completely escapist experience. I love it.
I'm surrounded by people all the time in my job. Whether I'm acting or directing or teaching, it's all people, people, people. Going to the movies is a contrast to that. My ideal session would be one where there was nobody else there.
Because I work mostly in the theatre, when I go to a play it feels a bit like work. I love theatre but it's hard for me to turn off the analytical side. But because films are so naturalistic I can get swept up in it and forget people are acting.
I went to a lot of films as a kid growing up in the Hutt. I remember going to the first Star Wars with my father at the Cinerama theatre in Courtenay Place and being blown away.
I must have been about 12, and I thought about it for years and years. I think that idea of going into an imaginary world influenced my choice of career. It's still one of my favourite films.
I love extremely well-acted and directed films. Some of my top films are Goodfellas and Apocalypse Now - gritty films with extraordinary actors and auteur directors. I also like art-house, like a German film called Barbara that was on recently. It was very slow and austere but wonderful and transfixing.
I also love the horror genre - that can be as shlocky as anything. And I like high-budget, full-on, unashamed blockbusters, like Iron Man 3 or Star Trek. And anything with John Hurt or Charlotte Rampling in it - they're wonderful actors.
I like the Academy in the city, or the Capitol in Balmoral or the Bridgeway in Northcote - it feels like an event to go to those. There's such care taken with them and the people who run them really love films, are very enthusiastic and play the offbeat and interesting ones. But if I want to see a blockbuster I'll go to the multiplexes, and I love that, too.
Cameron Rhodes directs Patrick Marber's psychological thriller After Miss Julie, at the Basement Theatre until Saturday. See basementtheatre.co.nz