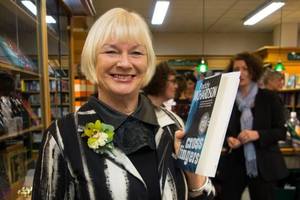 Dunedin crime writer Paddy Richardson is the author of Cross Fingers (Hachette).
The book I love the most is ... It has to be Anna Karenina by Leo Tolstoy for the wonderful depth and breadth of it and because I become totally absorbed in the places and characters every time I revisit it.
The book I'm reading right now is ... I've just finished Elizabeth Strout's The Burgess Boys. I loved the insightful way she evokes character and the sensitivity of her writing so I'm about to start her previous novel, Olive Kitteridge.
The book I'd like to read next is ... I think I might stay with Elizabeth Strout for a while - it's always good to find a great new author. So maybe Abide With Me.
My favourite bookshop is ... University Book Shop in Dunedin is wonderful.
The book that changed me is ... I'm going to cheat and have three but since they're Janet Frame's autobiographical trilogy I hope to get away with it.
I was just beginning to write when I read them and was inspired by the beauty of her wonderfully creative use of language and by the powerful story of her self-discovery as a writer.
The book I wish I'd never read is ... Ian McEwan is one of my favourite writers but The Comfort Of Strangers was just too much for me. Quivers go down my spine just thinking about it.