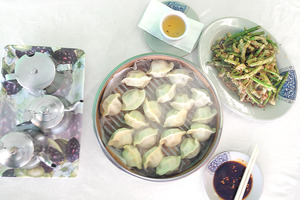 Last month Central Auckland's dirtiest eating establishments were named.
Food grades in the former Auckland City region show 10 restaurants and cafes have received E grades, with 29 given a D grade.
The New Zealand Herald online asked readers if they were influenced by the food grading system. Nearly 13,500 readers responded and just over half said they used the rating to make a call about whether to dine there. Or not.
But to the every day diner, how do these places really stack up?
A few brave members of the online team have decided to put their bellies on the line and review all 29 of the D listers, revealing one a day for the month of September. D grade eateries are reviewed twice a year, according to Auckland City Council.
While they are subject to change, our list is correct as of the last week of August, 2013. If the grade is changed at the time of publication this will be made clear in the review.
So join us on our journey eating through the D list. Check in at lunch each day, read our review, and let us know in the poll if you have - or would - eat at the outlet.
Barilla Dumpling, 571 Dominion Rd, Balmoral
What we ordered: Pork and chive steamed dumplings ($12 for 20) and fried French beans with spicy salt ($14). These two favourites never fail to please. We loved mixing the condiments to create the perfect dipping sauce balance of soy, chili and vinegar.
The vibe was: Despite its well-publicised D-listing, Barilla was still busy this lunch time. However, it's far from ambient, with the television blaring and massive sacks of ingredients being shuttled through the tables to the kitchen out the back.
The décor looked: We don't know who decided on the lime green paint, but it's wonderfully tacky and something this place is famous for. But we were careful where to rest our arms, the plastic covered tables were still grubby from the last sitting.
The service was: Pretty bad. Getting the wait staff's attention was almost impossible at times, and it seemed like they don't really like smiling.
We left feeling: Like we ate too many dumplings. But that's our bad. And we were tasting the pork and chive on our breath for hours after.
We could see their D grade: On the front window, loud and proud. Seems like the low score hasn't made a dent in the popularity of this Auckland favourite.
The most D grade thing about it: The walk to the toilet through the kitchen, and a peek out the back at all the food being prepared outside.
We'd go back: With more people - it's tasty but you need at least four people to make the most of the menu.
* Barilla has now been upgraded to an A. Read more here.
- www.nzherald.co.nz