Danielle Wright tracks down the best Father's Day experiences to suit any kind of dad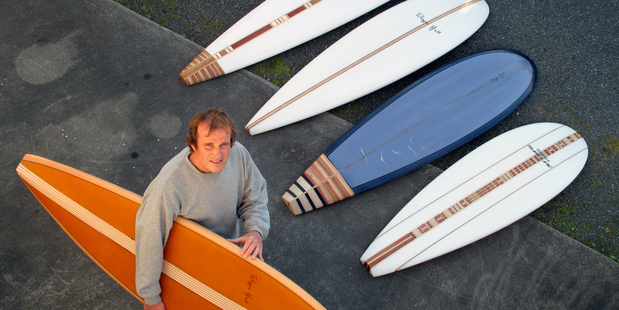 One of the best ways to show someone you care about them is to do something together that they love and you hate, all the while smiling through the experience. It's what we do for our kids, so why not our husbands and fathers, whose passion can sometimes be overlooked for family and work commitments?
Tomorrow is one day of the year to put their interests first. Here's a selection of fathers' favourite spots to inspire:
Boys on bikes
"There's a forest behind the Maraetai township," recommends mountain-biking dad Dion Earnest. "Dive into one of the trails for mountain biking that's a bit more rough and wild than Woodhill. It's maintained by locals with lots of mud, roots and rocks: all the fun bits."
Dion says mountain biking is great for reducing the stress of work.
"There's the wind and trees, the birds and deer rushing by and the complete sereneness of the bush: it balances everything out," says Dion. "At the same time it's a bit of an adventure with no pressure to 'get things done' like the rest of life."
Dion takes his son and daughter, as well as plenty of lollies such as pineapple lumps and jelly dinosaurs to keep them going.
"It takes time, but keep it fun and when the kids get the buzz it can be a great way to get active with the family," says Dion. "We like mountain biking holidays in Queenstown and Rotorua where it's just us and the flow of the trail."
Maraetai Forest Mountain Bike Tracks, access via Okaroro Drive or at the end of Rewa Rd, Maraetai Beach. Respect locals by leaving driveway access clear and closing gates behind you. No dogs allowed.
Runaway dads
"Running is a great way to unwind," says Waitakere Bush Runners' Sean Gribble. "As a dad, you need to keep fit for your children and, as they get older, it's something you can do together."
One of Sean's favourite bush runs starts at remote Whatipu beach on the west coast. He says it's a beautiful drive there and always good to stop for coffee and cake afterwards at the Huia Beach Store & Cafe, when it's open.
"Once you're on the track it leads up the valley and through lovely nikau palms, as well as along a really beautiful little stream," says Sean. "Head to the top and down Pururi Ridge Track. If you're fit, run up to Mt Donald McLean, which adds 30 minutes but has views right back to the Sky Tower, out to Manukau and, on a good day, Mt Taranaki."
"I took my 14-year-old granddaughter here for a run and it was hard work, but she managed it," says Sean.
"Make sure you take water and something to nibble along the way and even though it's 7-8km, allow 1.5 hours because bush running takes longer."
"It's such a lovely part of the country. On one walk you might see a waterfall, a river, nikau and kauri, bush and sea views - all in the same run, there's not too many places in the world you can do that," says Sean. "If you went for a bush run this Father's Day, that'd be the one thing you'd always remember."
Kura Track, Whatipu. Park your car at Whatipu then head back to the first bridge you find (about 100m) - there you will find a signposted fence leading to the track. Waitakere Bush Runners: facebook.com/groups/162726440407542
Fishy fathers
Hamish Beesley, aka "Hooked Up", started fishing off the Orakei wharf aged 11 while his mum sat in the car drinking hot toddies.
"Fishing has since become a huge part of my life and there's not a week goes by when I don't get out for a sneaky fish," says Hamish, whose perfect Father's Day would be a fishing trip with his son Noah at Mahurangi.
"You're spoilt for choice up there with four or five islands to fish around and the upper harbour if it's a bit rough," says Hamish. "We sometimes pull ashore at Saddle Island or Big Bay if the swell's not too rough to have a picnic or surfcast off the rocks."
Noah's first fish was a thrasher shark when he was just a year old. Hamish held on to him while he tried to hold the rod.
"It was magic," says Hamish. "Now he's older, we talk about lots of things while out fishing, we have a good laugh and both 'yahoo' whenever we catch a fish."
Mahurangi Harbour, north of Auckland.

Give Dad a break
Father of two Al Sanders learnt to surf on Auckland's wild west coast beaches, but for the perfect Father's Day wave, his tip is to head to Manu Bay in Raglan for "the most consistent, fun waves around".
If it's a stormy day though, he'll head to the North Shore's normally calm waters.
"It's like a ritual for Shore kids, they love a storm - even us dads, we surf the stormy waves for old times' sake," says Al. "Surfing is a complete escape from stress. It's also a lot of fun and the enjoyment is the same for the best on the beach and the novice."
If you're keen for your kids to do it, Al says you just need to expose them to every aspect early on.
"They don't need to start surfing too early, just seeing you doing it and being at the beach will be enough. When they're ready, get them lessons - kids seem to learn better without their parents telling them what to do," says Al. "It's not just for summer, people who've been bitten by the surfing bug go out in terrible conditions: it's all part of the fun."
The art of the surf board
Check out the free design encounter at California Design at the Auckland Art Gallery tomorrow (North Atrium, 12-2pm). Classic surfboard designer Roger Hall will have his display of vintage and new boards. Have a chat to Roger and discover the developments in longboard-making over his 40 years of shaping boards.Roger Hall has been making surfboards for more than 40 years. You can catch his talk at the Auckland Art Gallery on Sunday.
Swinging dads
New father Frank Rose has managed three games of golf in the three weeks since his daughter has been in the world. He says it probably doesn't make him a better dad, but has taught him patience, as it's "a very frustrating game".
Frank's father took him to golf when he was 7 and he got his first set of clubs at age 10. The sport has created good memories for them ever since.
"I still play with Dad once a week if I can," says Frank, who admits he still can't beat him. "As well as golf, it's fours hours' walking and talking in beautiful bushland. Titirangi is a unique course, one of the best. That's where I'd go for a Father's Day game."
Consistently rated as one of New Zealand's top five courses, Titirangi Golf Club shares its designer with clubs such as Augusta National, Royal Melbourne and Cypress Point.
Titirangi Golf Club, 11 Links Rd, Titirangi, ph (09) 827 5749, titirangigolf.co.nz
Fathers who brunch
Father-of-three Dave Collins has had Father's Day brunches at the Cornwall Park Restaurant for the past 30 years and recently welcomed his first granddaughter with a family occasion at the cafe.
"We have photographs taken over three decades at the cafe, right in the heart of Cornwall Park," says Dave. "It's a special place because it's where we went for Sunday morning runs, now walks, and all of our children were born here at the maternity ward of Greenlane Hospital. It's the perfect place to do a circuit of the park and then amble along to the cafe for muffins and coffee afterwards."
"New spots come and go," says Dave. "But, the Cornwall Park Restaurant continues to be very special to Aucklanders, and to this dad in particular."
Cornwall Park Restaurant, Pohutukawa Drive, One Tree Hill, ph (09) 630 2888. Daffodil Sunday in the park is on Father's Day, 1-3pm. There will be music, face painting and entertainment. cornwallparkrestaurant.co.nz
Think outside the socks with a Subway gift card!
The World's Greatest Dad will think you're the World's Greatest Kid if you hook him up with a Subway gift card this Father's Day. Think outside the socks and let him choose from a range of deliciously fresh subs, salads or sides from Subway to keep hunger at bay.
Weekend Life and Subway have two Subway gift cards loaded with $250 each to give away. To enter, go to nzherald.co.nz/weekend, enter your details and the keywords Subway Gift Card by midnight, Wednesday, September 4.