Heller's American style frankfurters - cheese $4.79 for 300g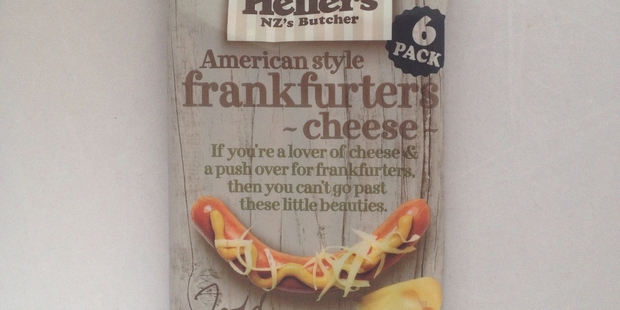 Sausages are always a bit of a gamble. How much meat is in them? Which meat? And what is the rest of the sausage made of? These came into my house because it was required that we have hot dogs for dinner.
And I have to say it doesn't get much easier than hot dogs when you just need to simmer or fry the sausages, throw them in a bun and pour on some mustard.
These ones have the bonus of already having cheese in them.

Ingredients (in order of greatest quantity first):
• Beef (75%) - This is good news on two counts. The first is that these sausages are made entirely of beef, not a mixture of several meats including mutton, which turns up a lot in sausages these days. The second is that 75per cent of your sausage is meat. The legal definition of a sausage is that it must contain 50 per cent meat.
• Water
• Cheese (6%) - No ingredients lists for cheese, which is unusual, but you can be confident that it takes up 6 per cent of your sausage.
• Salt - These taste very salty and do have quite a lot of salt in them. For each 50g sausage there is 622mg sodium, which is quite a bit of the recommended daily intake of between 920mg and 2300mg.
• Sugar - Not a lot in here at 0.6g a sausage.
• Wheat flour - This will be in here as a filler.
• Acidity regulator (325, 262) - These are sodium lactate (325) and sodium acetate (262).
• Modified starch (1442) - This is hydroxypropyl distarch phosphate which is a treated starch.
• Starch - This will probably be something like cornflour, in here to thicken.
• Mineral salts (451, 452) - These are diphosophates, which are salts of phosphoric acid which can be thickeners, stabilisers or emulsifiers.
• Rice flour - This will be in the sausage as a filler.
• Spices - These will be in here for flavour.
• Yeast extract - This is most likely in here for flavour as well.
• Dehydrated onion and garlic - Dried onion and garlic for flavour.
• Antioxidant (316) - This is sodium erythorbate which is produced from beetroot and sugarcane
• Vegetable oil - Don't know what oil has been used. The fat content of these sausages is 11.9g per 50g serve, of which 4.4g is saturated.
• Preservative (250) - This is sodium nitrite, a common preservative in sausages. It inhibits the growth of the bacteria which cause botulism, but there is concern that it reacts with stomach acid to form carcinogenic N-nitroso compounds during digestion. These have been shown to form cancer in a wide range of laboratory animals.
• Spice extracts - These will be in here for flavour.

My recommendations
If you're going to have sausages it's almost impossible to find them without sodium nitrite. Some producers are using alternative preservatives such as sodium metabisulphite but that can cause problems for people with sulphite allergies. The only way to avoid sodium nitrite is to make sausages yourself and eat them straight away, avoiding the need for preservatives.
The good news with this product is that it is 75 per cent beef, where most sausages are only 50 per cent meat or in the case of Sizzlers, even less.

Highlights
• Made with 75% beef.
• High in salt.
• Contains sodium nitrite which healthy eaters avoid.