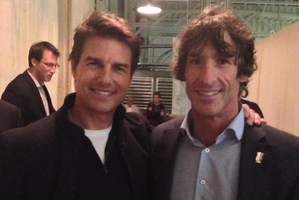 Restaurateur Tony Stewart is thankful this week's break in racing in San Francisco will allow his staff at Waiheke Island Yacht Club to regroup and brace themselves for the "madness" that will follow during the America's Cup.
The Kiwi pop-up restaurant on San Francisco's Embarcadero has been a hit with both locals and the sailing set in town for the America's Cup, easily exceeding the numbers Stewart had anticipated. During last week's Louis Vuitton finals the restaurant and bar was packed from lunchtime through to closing, giving an "exciting but slightly terrifying" prelude of what to expect when the big show kicks off in 10 days' time.
"It's going to be absolutely nuts, because last week was nuts," said Stewart. "I'm kind of a bit nervous about what it will do to staff with the hours they will be working. But it's two weeks to focus on and I think there's no reason why we can't nail it."
Located in a disused pier building next to the America's Cup village, Stewart and his team have transferred the large, cavernous space into a little slice of New Zealand on the west American foreshore.
The kitchen, run by head chef Hayden McMillan (former Merediths, French Cafe and TriBeCa) was completed only in the early hours before the opening day.
"The New Zealanders have been so amazing in this whole project right from the get-go. It happened so fast and it's been so intense, as much as they've loved the experience, it does rattle you a little bit," said Stewart.
Reviews from local media have been favourable, meaning it's not just the well-heeled sailing crowd that have been flocking in, but discerning San Francisco foodies.
They've had the odd brush with celebrity as well - most notably Tom Cruise, who stopped by the restaurant after taking a joyride on San Francisco Bay with Team New Zealand.
Their casual approach to fine dining has not won over everyone though, and Stewart admits some locals have been confused by the concept.
"Our portion sizes are probably not to the norm of what you'd expect in a pop-up restaurant. But the feedback has been overwhelmingly positive."
Almost on cue, a couple of customers approach Stewart to rave about their meal, before promptly re-booking for dinner that weekend.
"See, that's what I love about this place, people are just so passionate," said Stewart.