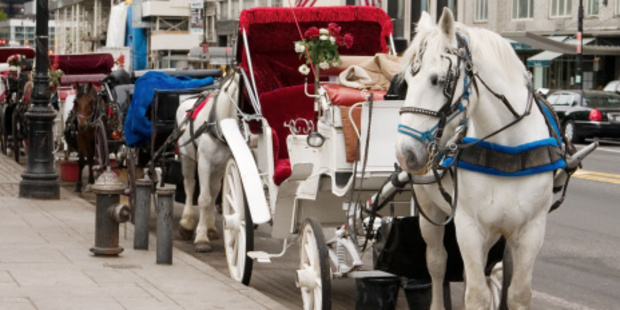 I've always classified those horse-drawn carriages in Central Park alongside Venice's gondolas. Both these touristy modes of transport are picturesque to witness and add undeniable ambiance to their respective locations but up close they're kind of tacky and cheesy. Some things are much nicer to watch than participate in.
But it's not often you get to show a ten-year-old around New York and so when we visited in June I'd thought a carriage ride could have been the perfect end to our four-day stay. Well, it might have been if I hadn't started feeling uneasy about the plight of the horses involved. All day every day as we left and returned to our hotel, we saw these big horses lined up on Central Park South in the height of summer, alongside the tooting taxis and pedestrian chaos of Midtown.
Little did I realise at the time but debate about the welfare of these carriage horses, a New York institution since 1858, is raging. Various animal welfare organisations and concerned citizens have joined forces to call for a ban on what many people see as an inhumane trade.
Animal welfare advocates and the carriage drivers themselves are at odds over whether the horses are being properly treated and whether this business should continue to operate in one of the most hectic cities in the world.
In Can you imagine Central Park without horse-drawn carriages? a carriage driver defends the industry and its practices: "The Central Park carriage horses are the most regulated horses on the planet, overseen by five NYC agencies and the ASPCA ... They are required to get at least five weeks' vacation, veterinary inspections four times a year, have limited working hours of, at most, nine hours a day and never in extremes of weathers and are cared for 24 hours a day by a team of knowledgeable stablemen."
Yet People for the Ethical Treatment of Animals (PETA) tells quite a different story on its website: "[T]hese horses are forced into dangerous traffic, where they develop respiratory ailments from inhaling exhaust fumes and debilitating leg problems from pounding the hard pavement ... When not working, these horses are confined to cramped stalls in which they are unable to turn around, stretch their legs, or even lie down comfortably."
According to the Coalition to Ban Horse-Drawn Carriages, over 200 horses "live in cramped quarters in five multi-storied stables ... on the far west side of Manhattan". Evidently, horses must climb steep ramps to access this unsuitable accommodation which may well lack bedding and be full of excrement.
Some of the comments on The Guardian piece paint an equally grim picture: One reader wrote: "There is nothing cruel about the ... horses being worked ... it's their down time I'm concerned about. No mention of daily turnout with other horses ... so that they can just be horses. Worked then stabled when not working is not allowing them any freedom."
Another said, "I lived in NYC and saw firsthand the agony of horses lying in the street, being hosed down to cool them off to revive them on sweltering hot days. They are worked to exhaustion year round and are being ... abused for tourist profit."
And finally: "I lived in NYC for 40 years ... Carriage horses plod along streets made for cars ... They pull tourists all day long and for at least part of the night. Horses must breathe in fumes from thousands of autos ... They do collapse from heat exhaustion."
Unwilling to support such a trade, instead we eyed up the horses and scrutinised them for signs of maltreatment. Some had glossy coats, and seemed well fed and content. Others had visible ribs and looked foot-sore as they trotted along the road.
One horse knocked over the small bucket from which it was feeding where Central Park South met Sixth Avenue. "I wonder how long before anyone notices he's knocked his feed over," I said. Right away, his eagle-eyed keeper came to stand up the bucket once more. I decided that just like any industry, in Central Park's horse-drawn carriage business there are some bad operators and some good operators who do care for their animals. But we still couldn't bring ourselves to be a part of it and perpetuate demand for a service which is associated with so many animal welfare concerns.


What's your view on the Central Park horses? Should they stay or should they go? Have you taken a horse-drawn carriage ride through Central Park? Would you?