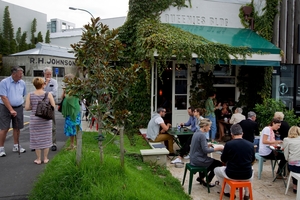 A popular cafe in upmarket Freemans Bay has won a battle with the elderly - at least temporarily - to extend its liquor serving hours.
Queenie's Lunchroom's application to serve alcohol up to 10pm four nights a week had faced strong opposition from nearby senior citizens who believed it could lead to increased noise, parking problems and people urinating outdoors.
In a reserved decision, the Alcohol Regulatory and Licensing Authority said the cafe in the suburb on the fringe of the Auckland CBD would be granted the extended hours for 12 months only.
"Whilst sympathetic to the objectors, the authority is not satisfied that their concerns as to excessive noise emanating from the premises is justifiable," the authority said.
"This is a management issue which the applicant has the ability to manage appropriately."
Queenie's had a liquor licence until 5pm on most days but the variation now allows it to trade up to 10pm from Wednesday to Saturday.
The cafe would need to put in a further application if it wished to keep the new liquor trading hours beyond the 12 months, the decision said.
The authority noted that Queenie's had previously breached the terms of its resource management consent because its owner, Allana Owen, was unaware of its specific terms and "did not appreciate the breaches were occurring".
"The regulatory breaches have been explained, but the explanation is not sufficient to constitute a reasonable excuse," the authority said.
"In short, the applicant needs to do better."
It said the decision to approve the increased hours only until next August was a "precautionary" move.
"In this respect it is applying the precautionary principle which will place an obligation on the applicant to make certain that the fears of the objectors are proved unjustified.
"If the applicant is unable to satisfy this obligation ... the extended hours permitted by this decision will revert to the former hours."
Queenie's is in Spring St, which is zoned for mixed use, but is across the road from a Housing New Zealand complex where about 45 elderly residents live.