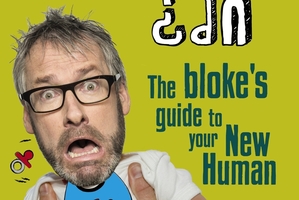 Which Way Up? The Bloke's Guide to your New Human
by Jeremy Corbett (Penguin)
It's never been easy to get men to read a parenting book, until now. Written by comedian and broadcaster Jeremy Corbett, Which Way Up? is tongue-in-cheek advice covering everything from the benefits of living with a pregnant woman (or "sober driver") to serious topics such as miscarriage. There are also sections on what happens in the delivery room - information far more easily digested when told by Corbett than in a room full of strangers at antenatal classes - plus after the delivery and into the horrors of kids' entertainment. As Corbett says: "There's nothing guide-y in here. If you choose to follow some of the things that I have done, then it's on you, pal."
Parenting with Balls
by Ian Newbold (New Holland)
Life can change in an instant. When Ian Newbold's wife died of a heart attack at the age of 30 he was left to raise his 7-month-old son. He took to the role with gusto and quit his corporate job to be a stay-at-home dad, which he documents in Parenting with Balls.
He touches on the hard topics, such as grief and those involving awkward social situations. It's a deeply personal account that will help those in similar situations and will make anyone re-evaluate their lives.
What the Dogs Taught Me About Being a Parent
by Doggy Dan (Random House)
Imagine a calm, peaceful household filled with children. That's the future, according to dog trainer Doggy Dan. What the Dogs Taught Me About Being a Parent works with a parent's attitude to create the desired change, such as, "Be prepared to create something magnificent out of every situation". Another states: "The most important time is now. Start investing the time and love [your children] deserve today." As a bonus, it will help you with your kids and your pets.
Reviewed by Danielle Wright, an author who has written award-winning children's books and the news site: newsmummy.com