Keith Woodley, manager of the Miranda Shorebird Centre.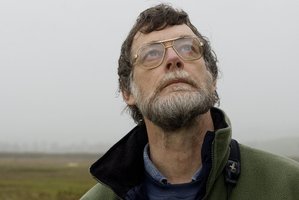 Miranda is my happy place. Every day I look out on a coastal plain comprised almost entirely of old shell ridges. It's a flat landscape of paddocks and salt marsh out to the Firth of Thames, with the Coromandel range beyond.
I've been here since 1993, and been privileged to witness amazing things. The Firth of Thames supports a big flock of shorebirds, most of which breed elsewhere, so there are movements going on throughout the year.
At the moment we've got pied oystercatchers, which have been up here in big numbers since January, heading down to the South Island to breed. Almost daily we get little flocks piping their way south, which is cool. In a few weeks we'll expect the first bar-tailed godwits to arrive back from Alaska.
It's always a great experience to watch a migration depart. The bird calls are slightly different and more constant, and they're often flying at a higher altitude than normal. You'll see them fly around making a formation, then they'll just steadily head in the direction they should be going.
If it's an oystercatcher it'll head south, if it's a godwit, it'll head north.
There's a sense of awe if you're looking at a departing flock of godwits, knowing what we now know about them - that when they leave Miranda they're not going to stop until they reach the Yellow Sea, 10,000km away. They won't touch land again for six or seven days on the northern coast of China.
I spent my schooldays in Invercargill, before migrating north, but I think I've reached the northern limit of my range here. I became interested in birds when I started painting them as a hobby in the late 1980s. They were a very flexible, fluid subject - they could turn up anywhere in the space. After a while I started paying more attention to real birds.
I could spend endless hours in one of our hides down the coast, just watching the tide change. Our spotting scopes give people really good views of individual birds. There might be thousands of birds amassed in a flock on the mudflats, which is impressive in itself, but if you separate an individual out of that mass - you get close enough to watch it and see the highlight in its eye - there's a sense of real connection. It makes the bird not just an object but a living individual. You watch a glow of recognition come over kids' faces, when that happens. That's a pretty good moment.
Keith Woodley discusses shorebirds in a free talk at Auckland Museum on Saturday in its free Moana: My Ocean exhibition. The Miranda Shorebird Centre is open seven days at 283 East Coast Rd, 7km south of Kaiaua.