Stuart MacBride brings back his leading man in his latest thriller, writes Stephen Jewell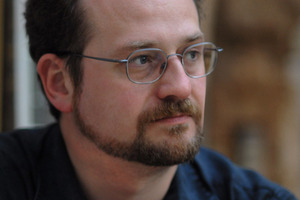 From Ian Rankin's Rebus novels to long-running television series Taggart, most Scottish crime dramas have taken place in the gritty streets of Glasgow or Edinburgh's more rarefied surrounds. But when he embarked upon his first novel Cold Granite a decade ago, there was no better location for Stuart MacBride's hard-hitting thrillers than his east coast hometown of Aberdeen.
"It was a completely underused setting even though it's Scotland's third city," he recalls. "It's also the oil and energy capital of Europe and it's a big place, but it's been completely ignored."
Nicknamed the Granite City, Aberdeen's distinctive architecture makes it a perfect backdrop for the increasingly horrific mysteries that confront MacBride's recurring protagonist, Detective Sergeant Logan McRae. "Ian Rankin has described Edinburgh as being bipolar because it has a bright side and a dark side, but Aberdeen is actually much more schizophrenic," reasons McBride, who attributes the city's ever-changing qualities to the igneous stone that much of its buildings are made from.
"It's mostly this neutral grey colour but it also has these little flecks of mica in it, so when the sun comes out it completely transforms and becomes this much lighter place," he continues. "The granite sparkles and the sky is blue so everybody is happy. But when it turns, as it does up here every 15 minutes, the sky darkens and the buildings go from being sparkling and bright to dark, grey and funereal. And so do we as people. I love that and I think that's why it really lends itself so well to crime fiction, which is probably why most of my books are usually set in the depths of winter when it's pouring with rain and snow."
Since first making his bow in 2005, the increasingly embattled Logan McRae has featured in eight books, which MacBride insists can be read in any order. "I don't believe in having a big red reset button, where at the end after all these terrible things, everybody is back to normal," he says. "Logan carries his scars, both physical and mental, from book to book. He's been vegetarian since the fourth book, Flesh House, for example, so you'll get a progression if you read them forwards. But you can also be like a time traveller if you read them backwards, which some people have done, then have found out, 'Oh, that's why he doesn't eat mince any more!"'
After taking a much-needed break so he could concentrate on last year's standalone Birthdays For The Dead, MacBride returned to the character in his latest novel, Close To The Bone. "I'd done such horrible things to Logan in my previous book, Shatter The Bones, that if I'd written another book about him straight after that he would have either ended up retired, in care or dead," he says.
"There was no way he was going to survive that amount of mental and physical pumelling for much longer. And because he gets older in real time, it meant there was a two-year gap between the books, during which Logan has had therapy and nothing nasty has happened except maybe a few stolen library books that nobody wanted anyway. So now I can write about him again and torture him some more."
Just as Rankin resurrected Rebus as a civilian consultant in last year's Standing In Another Man's Grave, the recent radical restructuring of the Scottish police force will also be reflected in McRae's next adventure. "There are some big changes on the cards as the Grampian Police he used to work for doesn't exist any more, as it's now just Police Scotland," says McBride, who believes the extensive reorganisation has had some real consequences. "There have been a lot of police officers who have left to go offshore because their career path and pensions are nothing like they used to be."
A Song For The Dying, an unexpected follow-up to Birthdays For The Dead, is scheduled for next January. "I never meant to do a sequel to that book because it was meant to be my Shakespearean tragedy," says MacBride. "It followed the same rules as Macbeth and Othello and it's not like you're going to get Macbeth Part Two: The Return. But a lot of people wanted to know what happened next and it's been challenging to write because you can't just go, 'It's all fine now.' There's a lot of baggage that comes from Birthdays that pours into the new book."
Having first toured New Zealand in 2009, MacBride is looking forward to returning next week and again exploring the country with his good friend, fantasy writer Russell Kirkpatrick. "We're going to go on a wee tour of the North Island this time," says MacBride, who was introduced to the Hamilton author by their mutual publishers.
"We met the day after I arrived in Auckland. We drove to the airport, flew down south and went on this week-long tour in a car that Russell had borrowed. It was a bit like a road movie as we went to Queenstown, saw the Moeraki Boulders and some penguins in Timaru. When we got to Dunedin, it was raining and I thought, 'Yes! This is Scotland'."
Close To The Bone (Harper $19.99) is out now. Stuart MacBride will talk
at Remuera Library on August 30, 429 Remuera Rd; $5 entry.