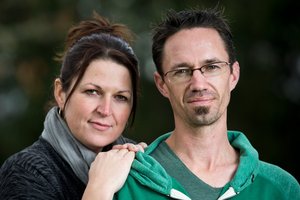 For the first time since they got together 12 years ago, Jacqui Ritchie is able to touch the left side of her husband, Robbie's face.
She had avoided doing so as it could have triggered a seizure because of abnormal blood vessels in his brain, known as an arteriovenous malformation.
The 33-year-old is in Hanover, Germany, recovering from surgery performed by a top neurologist.
The public helped Mr Ritchie and his wife - who have two young sons - to raise more than $200,000 to get the couple to the appointment last week - and it appears the operation was a success.
"During the day, sometimes up to 30 or 40 times during a day, he felt a pulling sensation in his left cheek which meant a seizure might be about to start," Mrs Ritchie said.
"But since his surgery, the pulling feeling has gone. So Robbie just let me touch his cheek, and together we sat with his hand over mine, on his left cheek, and we cried. A new life is about to begin."
Mr Ritchie was released from hospital on Monday, having not had a seizure since the surgery seven days before.
"It's a life-changing thing for both me and my family," Mr Ritchie told theHerald.
There has also been no sign of surgical side-effects including impaired use of the left side of his body - which would have affected his ability to play the drums.
The couple, who live in Patumahoe, near Pukekohe, are expected to return to Auckland in a few weeks.