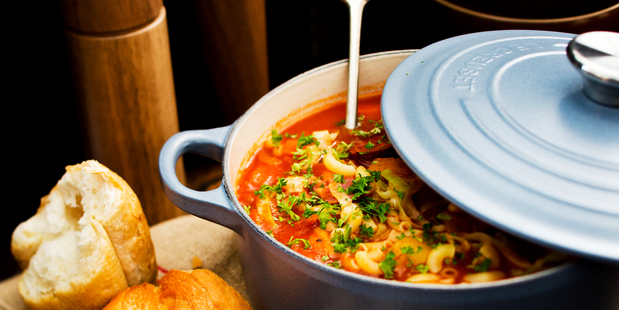 Serves 6-8
• 2 litres water
• 1 ham hock
• 1 Tbsp oil
• 2 onions, chopped
• 1 clove garlic, crushed
• 1 stick celery, sliced
• 2 medium-sized potatoes, peeled and chopped
• 2 carrots, peeled and chopped
• 1 Tbsp paprika
• 2 cups passata
• &frac14 cup tomato paste
• 1 litre chicken stock
• 420g tin cannellini beans, drained and rinsed
• &frac12 cup macaroni
• 1 tsp sugar
• 100g chorizo sausage, chopped
• &frac14 cabbage, shredded (optional)
• Salt and pepper, to taste
1. In a large pot, place the water and hock. Bring to the boil, then reduce heat and simmer for 11/2 hours. Remove the hock and, when cool enough, pull off the meat and cut it into pieces. Remove from pot and discard the hock bone and cooking water.
2. In the same pot, heat the oil and add the onion, garlic, celery, potatoes and carrots. Cook for 5-8 minutes until slightly softened. Add the paprika and stir through. Add the passata, paste and stock and cook until the vegetables are soft (20-25 minutes).
Add the beans, macaroni and sugar and cook for 8-10 minutes until the macaroni is cooked.
3. In a small frying pan, heat the oil, add the sausage and brown quickly. Toss the cabbage into the pan to wilt.
4. Place the sausage and cabbage into the soup, stir and heat. Season and serve with crusty bread.
- VIVA