Each week Rachel Grunwell tries out a new form of exercise to bring you the lowdown.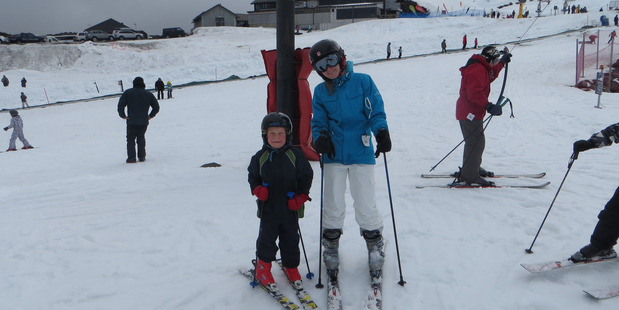 Family skiing at Mt Ruapehu
What is it? Attaching boots and skis to the feet and using them to swish down snowy hillsides.
What's needed? Ski passes, boots, poles, skis, warm and waterproof clothing, gloves, goggles, helmet (or you can hire gear on the mountain).
The experience: There are few sports the whole family can learn together, but skiing is one of them. This activity engages most muscles and burns a swag of calories, too - roughly 300-600 calories an hour apparently - depending on how fast you fly down the slopes.
As a workout, skiing is good fun, plus it's good for you. And it's a good excuse to scoff chocolate to keep up your energy levels.
My husband, Damien, is an experienced skier so he heads to the top of Mt Ruapehu - to borrow Sir Ed Hillary's famous words, to knock the b***** off and lap up some thrill-seeking fun.
Further down the mountain, Lachie, 6, is an absolute beginner, while Zach, 8, has a tiny bit of skiing experience, so they head to different ski groups with instructors.
They both learn how to do pizza-wedge angles with their skis and amateur turns, and are soon independently swishing down Turoa's Alpine Meadow slopes, over and over again, until their mean parents make them stop for lunch and later, leave, which is met with a storm of protests.
Meanwhile, 2-year-old Finn hangs out in the fully licensed Turoa Yeti Kids' Centre, for kids aged 2-5 years. There he happily paints, plays, feeds the pet fish and has morning tea before we pick him up to show him the snow.
Staff also introduce little ones to snow and have toddler-size skis so the babies can give the sport a go - there's even a small fenced-off snow area at the centre.
As for me, getting two lessons over two days helps me progress from beginner skier to an advanced/intermediate level - and dials up the fun several notches. I now truly get why the bloke has always had a passion for snowy peaks.
Instructor Dani Hunt shows me how to rotate the skis for more control (and grace) and how to change my "sharp ice-hockey-style turns" into movements more fluid and in control.
The advice rids me of the fear of falling over and, with more control, I can pick up more speed - woo hoo!
After the lessons and practice, we hang out on the kids' slopes and it's here that I get the biggest kick of the trip, seeing my kids' faces plastered with smiles as they soak up the snow. It's so beautiful up here with the views over the Central Plateau, it's no surprise this magic mountain casts a spell on us.
I agree wholeheartedly with Freya Taylor, Mt Ruapehu's marketing co-ordinator, when she says "You just can't underestimate how much fun a family can have in the snow."
Worth it: Ski lessons are the key to conquering this sport.
Try it: Rachel, Zach and Lachie did a Discover Package, which includes a 1hr 50m beginner lesson each, a beginner area lift pass, full-day gear rental (jackets, pants, skis, poles, boots or snowboard and boots) and a sightseeing chairlift ride.
The Discover package is $110 adult; $80 youth. Other family fun at Mt Ruapehu includes tobogganing, sledding, seeing the sights on a chairlift or playing in the snow.
Rating: 10/10
• Rachel and her family were kindly hosted by Mt Ruapehu. See www.mtruapehu.com for further info on what the mountain has to offer.
Rachel wears: Kathmandu Stromsdal jacket, $449.98; Jumar pant, $299.98; and Snow Sport gloves, $69.98. www.kathmandu.co.nz