Don Kavanagh basks in the glory of his beer's near-success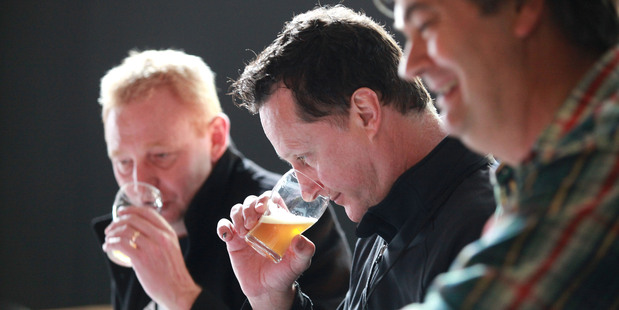 I have won exactly three things in my life and they've all had a major influence on how my life has turned out.
In 1978, I won a short story competition back home in Ireland, which gave me two things - a five-quid book token and an unshakeable belief that I was bound for literary greatness, neither of which really lasted all that long.
Ten years later, I won a martial arts competition that would have catapulted me into the Irish tae kwon do team for the Seoul Olympics, had I not wrecked my left knee in the process of winning. The whole business left me with an immovable antipathy to physical exercise (especially the remedial physiotherapy component of it), which has never left me.
And then, just last week, I came second in a brewing competition at Beervana, the premier exhibition of brewing excellence in the country.
Now, when I say I came second, I should add a few caveats: the beer I had a hand in came second-equal in the Media Brew section and most of the hard work was done by Hamish Ward, the brewer at Deep Creek.
Our Jafa Stout, a blindingly good beer flavoured with cocoa nibs and mandarin zest from my own garden, was deemed good enough to take silver (or possibly bronze on a technicality, but I laugh in the face of mere technicalities) and that has also had a huge influence on me.
Mostly it has induced a huge increase in my self-esteem and intense annoyance among my friends who are constantly reminded that I am now - technically - an almost award-winning brewer. My partner has resorted to rolling her eyes whenever I bring it up (which is frequently) and my friends tend to suddenly talk about something else whenever I offer them one of my fine orangey-chocolatey stouts.
Still, I know I now have self-worth, which is fantastic at my age.
It has also spurred me on to restarting my teenage flirtation with home brewing. Actually, it was more than a flirtation - I'm pretty sure we consummated our relationship after a few bottles of particularly virulent brown ale. But I am seriously thinking about having a go at it - after all, I still haven't made a lamington beer and I'm dead set on brewing a seaweed-infused beer. And the joy of home brewing is that if no one thinks it's any good, you have a fridge full of beer you'll be duty-bound to drink yourself.
But beneath all the crowing and bullshit, I am impressed; not so much with myself, perhaps, but with the skills of Hamish, who must surely have been shaking his head at some of my more outlandish suggestions. It was also nice to think that my/our beer outstripped some seriously impressive brewers and beer writers. I'll be skiting about it for ages at those legendary beer writer get-togethers ... if they existed.
Seriously, though, the opportunity to have a beer on show at the country's premier brewing event was fantastic and I hope I get another invite next year.