Different areas call for different management plans for snapper fishery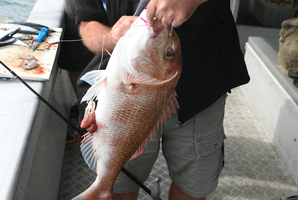 When the Quota Management System was introduced in 1986 it was heralded as the saviour of our fisheries and the best system in the world. So why, 27 years on, are we looking at the sixth reduction in bag limits for snapper fishers in area Snapper 1, which stretches from East Cape to North Cape? It doesn't seem to be working very well. Orange roughy have disappeared, the Marlborough Sounds blue cod fishery is in tatters and the list goes on.
We are told that snapper stocks in Snapper 1 are rebuilding slowly, but more cuts are needed in the recreational catch.
Commercial catch remains basically the same as it was in 1986 (4500t), and commercial methods have not changed - they have just become more efficient.
The three options from the Ministry of Primary Industries (MPI) propose cutting the recreational catch by between 19 per cent and 30 per cent, applying various mechanisms ranging from reducing the current daily limit bag of nine fish over 27cm to three over 27cm, to nine fish over 36cm, with different combinations in between.
The commercial options vary from no change to a small increase or a small decrease.
Yet under the 1997 Fisheries Act, if a fishery is stressed, priority must be given to recreational catch before commercial.
The area is too far reaching and many of the problems, and consequently the solutions, are local ones and should be treated as such. Part of the problem is that Auckland's burgeoning population is adding to angling pressure, and the snapper populations are at different levels in Northland and the Bay of Plenty.
MPI figures put wastage at 450 tonnes, which is largely made up of small snapper killed and discarded in trawl and seine nets, which are indiscriminate compared to commercial long-line fishing which is more selective and is permitted in inshore waters at certain times of the year. The wastage represents two million fish and should be addressed before any bag limits are cut.
The problem with increasing the minimum size of snapper recreational anglers can take, or reducing the bag, is that it will be counter-productive. It would encourage people to break the law and discard smaller fish in favour of bigger specimens even though they are dead. There is no doubt that some of the under-sized snapper put back will die, so a bag limit of three would conceivably treble the mortality as three times more fish would have to be returned. So reduced bag limits could actually kill more fish than at present.
If we wanted a system that was in the best interests of the fishery, people would have to take home the first nine fish they caught, irrespective of size. There would be no unnecessary mortality, but it would not work in practice as people would throw back tiny fish. Regulations must be practical and enforceable.
The MPI report puts the value of the commercial catch in Snapper1 at $186 million a year, involving 199 vessels. But there are no comparable figures for the value of the recreational fishery to the economy, and this would make interesting reading. When the investment in boats, tow vehicles, baches, tackle and associated equipment was totted up, even allowing a percentage only for actual fishing, I suggest it would be 10 times that amount. The bait business alone is worth $30 million a year.
What are the solutions?
Perhaps these could be added to the debate. Separate the region into three separate management areas - Northland, Auckland and Bay of Plenty - with different regulations as needed. Address the issue of the two million baby snapper currently being killed and discarded. Perhaps ban commercial netting in the Hauraki Gulf - the main nursery on the east coast - from November 1 to January 30 when the fish are vulnerable in large schools for spawning.
Recreational fishers also kill some unwanted fish, so introduce more education aimed at improving release techniques. Raise the minimum size to 30cm and make it mandatory to take the first nine fish over that length.
Introduce harsher penalties for recreational anglers breaking the law. Commercial fishers can lose their boat if caught transgressing. This rarely happens to weekend anglers.Bite times
Bite times are 8.20am and 8.50pm today, and tomorrow at 9.20am and 9.50pm. These are based on the moon phase and position, not tides, so apply to the whole country.
No tip this week, but do send in a submission by next Friday on the proposed changes. Go to LegaSea.co.nz.
More fishing action can be found on Rheem Outdoors with Geoff, 5pm Saturdays, TV3, and at www.GTTackle.co.nz.