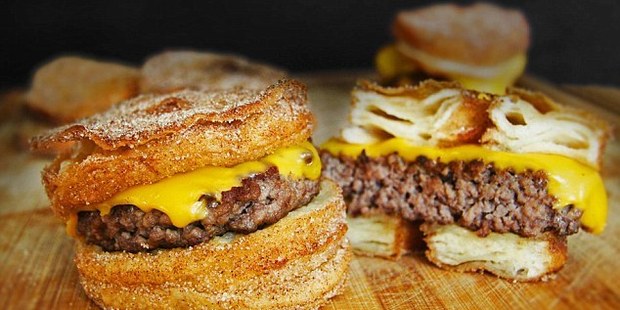 Taking the cronut to a whole new level is Canadian pastry shop, Le Dolci, who has teamed up with Epic Burgers and Waffles, to create a new concoction: the Maple Bacon Jam 'Cronut' Inspired Burger.
Created for the Canadian National Exhibition, where chefs brandish their latest and greatest inventions, the Do-Cro burger, as they are calling it, took center stage.
Decried as "heart-stopping" by its creators, the Do-Cro burger sandwiches a hamburger patty and slice of processed cheese between two pieces of cronut clones - the hybrid croissant-donut pastry made famous by Dominique Ansel Bakery in New York this spring.
The burger specialist Shant Mardirosian, founder of Burger's Priest in Toronto, took the new $10 Maple Bacon Jam Do-Cro Burger for a test drive.
"The sweet and savory definitely works together," he told The Globe and Mail.
"You get nice hints of bacon."
While he said it tastes like "a really great cronut with meat thrown in there by accident", Mardirosian admitted he couldn't really taste the beef
"For a one time deal it's alright," he said.
After French chef Dominique Ansel debuted and trademarked the Cronut - a croissant-donut hybrid -in in May, handfuls of knock-offs have made their way around the world.
In South Korea, Dunkin' Donuts as has created New York pie donuts, and Mr Ansel's legal team has already put an end to a Santa Monica bakery's 'Kronut.'
No word on what the chef will have to say about the Do-Cro burger, but for those interested in tasting the savory sweet treat, it will be available from August 16 to September 2 at the festival.
In the meantime, lines are still forming around the block in New York City's SoHo, the home of the cronut craze.
It is so popular that actress Emma Roberts was denied the delicacy when her representative tried to skip the long line at Dominique Ansel Bakery.
- DAILY MAIL