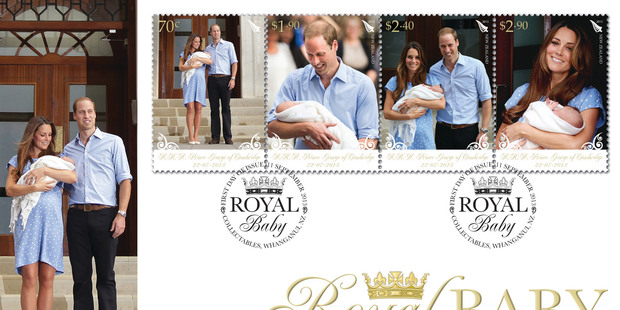 For the first time in New Zealand a postage stamp will be issued to celebrate a royal birth - with the release of one baring the face of newborn Prince George.
Royal children have made their way on to Kiwi stamps before, however NZ Post say this is the first time there will be a commemorative stamp released to mark a birth.
The set of stamps feature the first photographs taken of Prince George with his parents Prince William and Kate Middleton outside St Mary's Hospital in London a day after his July 22 birth.
Take a peek at the new series of royal baby stamps: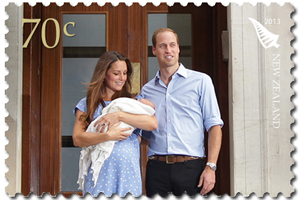 A limited edition 1 oz silver proof coin with gold plating will also be released. It features a coronet design assigned to the Prince and weaves in a koru - the M?ori symbol for new life.
"Prince George's birth was a global event and there was huge excitement in New Zealand about his arrival, so it's only fitting he gets his own stamp," says New Zealand Post spokesman, Simon Allison.
"The minute news of the Prince's birth came through, we put into action a plan we'd had in place and worked around the clock to get our commemorative stamp and coin issue finalised," he said.
That process included getting approval for the images and designs from the Queen and Prince George's parents, the Duke and Duchess of Cambridge.
"The Queen and the Duke and Duchess have personally okayed the images and we're glad they agree with our choice of stunning photos which show an immensely proud Royal mum and dad and the baby Prince," said Allison.
Pre-orders for the stamps are available now. First day covers and presentation packs will be sold at outlets from September 11.
Check out the photographs taken that day in the gallery below:
- www.nzherald.co.nz