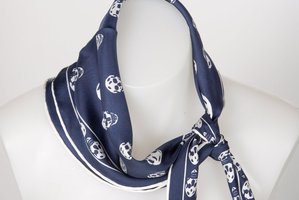 Alexander McQueen has tapped Damien Hirst to create a series of limited-edition scarves for the accessory's 10th anniversary.
The esteemed British label is renowned for its signature skull-motif printed scarves, which are worn by the world's biggest stars.
In celebration of the iconic accessory, the label is collaborating with English artist Hirst to create 30 new one-off designs.
According to WWD, the pieces are adapted from Hirst's famous Entomology series and sees "butterflies, bugs, spiders and other creepy crawlies worked geometrically into the shape of the McQueen skull motif".
The brand - headed up by creative director Sarah Burton - chose the esteemed artist because of his shared vision, "in which an interest in symmetrical design is combined with strong references to the natural world".
Scarves will be available in a range of materials including chiffon, twill and cashmere.
The hotly-anticipated accessories will be available in Alexander McQueen stores and online at alexandermcqueen.com from mid-November, with prices starting from STG315 ($NZ610.96).
Alexander McQueen's foray into the limited-edition scarves follows news earlier that the luxe label are releasing a men's and women's fragrance.
- COVER MEDIA `