Each week Rachel Grunwell tries a new sport to bring you the lowdown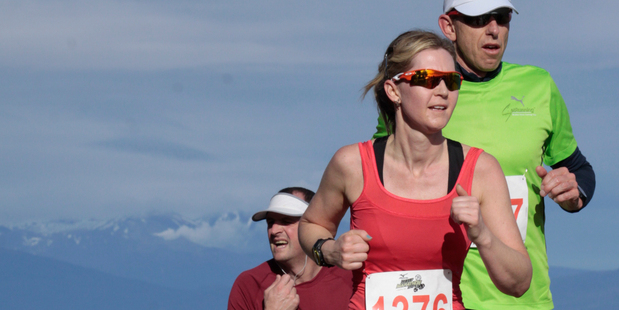 Mizuno Half Marathon: Taupo
What is it? New Zealand's largest stand-alone half-marathon of 21.1km, organised by the Taupo Half Marathon Society with proceeds going to support local young sports people. To celebrate its 20th anniversary, this year's finishers were awarded a medal.
What's needed? Running gear.
The Experience: Recently, when a mate asked, "Did you run today?" I realised I was "one of them".
"Yes," I replied, "but just 10km."
"What do you mean, just 10km?' she shrieked, looking at me like I was mad. It was then I realised I'd become a runner.
Over six months, trainer Gaz Brown and his GetRunning club have been helping me train for this race. I've risen at sparrows' fart four days a week and run so much in the dark that some of my training has felt like a crazy dream.
Crazy, yes. But it's no dream because the picture on this page is of me wearing a real race number.
To my right is fellow GetRunning pal John Silk. He can run like lightning, but he selflessly offered to be by my side on the day to help me keep on pace to try to reach my dream of running a sub-two-hour time.
Gaz gave us a race plan, including target speeds for my ability during different sections of the course, and tips like not to bolt early or I'd fade mid-race.
When I crossed the start line I was excited. I felt like a penned-up sheep that had just been released as I moved with a wave of the 2300 participants. There was the Speaker of the House, David Carter, darling of radio and print Kerre McIvor, and even an 84-year-old among the flock. But that's the thing about running; we're all in it together. I was weaving between bodies, dodging fast-swinging elbows, and marvelling at the sea of legs.
The event is a loop, mostly hugging Lake Taupo, with a backdrop of stunning snowy mountains. Supporters scream, smile and hold up signs or cups of water. John reminded me to slow early on or I'd hit the wall, then later he spurred me to speed up when he knew my feet were begging to stop. Yes, I questioned my sanity. Yes, my muscles screamed "this hurts". But I can be a bloody-minded tart when I need to be and I pushed on.
The last stretch is a steep cruel hill and I whimpered, "I can't do it." But John encouraged me. "Yes, you can, there are just just minutes to spare," he told me. I think I swore. As I finished I was exhausted, exhilarated and almost tearful too as I hugged John. He told me I'd made my goal (1h 58m 19s). My effort was no fearsome feat though - winner Blair McWhirter clocked 1h 12m 20s. But this mum - who used to puff pushing a pram six months ago - is now a proud half-marathon runner.
Worth it? I'm still beaming. Anyone would think I'd won the darn race.
Try it: This event is on the first Sunday in August every year.
Rating: 10/10
The Mizuno Kinloch Offroad Challenge is coming up in Taupo on September 7. Check out taupohalfmarathon.org.nz