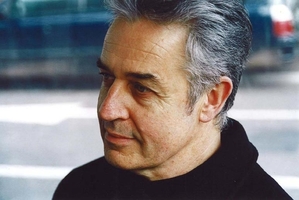 I spend most of my time in a little room downstairs in our house in Christchurch, surrounded by a menagerie of books, CDs, bottles of ink, bits of paper and pictures.
I know that "menagerie" is not the proper word to describe the stuff in my studio but I like to imagine I'm surrounded by things I've captured in the way a hunter might collect live specimens for a zoo. They give me comfort, entertainment and ideas. They keep me grounded.
My studio used to be an old kitchen. There was a new kitchen upstairs so the old one had to go to give me some working space.
Our builder put a long bench along one side of the little room, a sliding door into the garden on another wall, and a sink on the other.
On the fourth wall he installed a noticeboard so I could pin up notes and reminders of talks to U3A and Probus groups, as well as flight schedules for school visits and book festivals throughout New Zealand.
It is wonderful to have a place that you can just leave. Halfway through an illustration I can walk out - check the mail, make a sandwich or go for a stroll to grab a half-price cup of coffee on half-price pensioner day at the nearby mall, knowing it will all be there, untouched, when I get back.
And if a story is giving me a hard time I can leave that, too. After wrestling with a pesky tale for several hours, mowing the lawns can seem an exciting way to spend your time.
My studio is a very small room but it doesn't matter because I spend most of my time in my head. The walls dissolve, the windows melt and the carpet ripples until the whole world becomes "my happy place".
Trees - date palms, kauri, juniper and larch wave their arms above my head. Pythons, gibbons, parrots and butterflies twist and chirp and chatter among the branches. Mountain ranges zigzag along the horizon. Raging torrents, wandering streams and babbling brooks pass by my feet. And in a dappled glade stands a long table with a gingham cloth.
With no space to spare, dishes of macaroni cheese, cardamom chicken, almond tart, spaghetti and meatballs and beef Wellington sit steaming, waiting for me to get stuck in.
If the phone rings and I'm suddenly back in my little room again, I can turn to the right on my chair and look across Bowenvale and catch a rainbow as the last shower slips over the hills into Lyttelton.